The Nippon Foundation MEGURI2040 Fully Autonomous Ship Program
Demonstration test of world's first fully autonomous operation of small tourism boat successfully completed at Sarushima, Yokosuka
The Nippon Foundation launched The Nippon Foundation MEGURI2040 Fully Autonomous Ship Program in February 2020 for the development and verification of fully autonomous ship navigation. On January 11, 2022, a fully autonomous small tourism boat successfully navigated the waters around Sarushima, an island off the coast of Yokusuka City in Kanagawa Prefecture. This was the world's first successful demonstration of fully autonomous navigation (automated navigation from departure to docking) of a small tourism boat, and the application of this technology is expected to allow small boats to be used to support the daily lives of residents of offshore islands and alleviate Japan's shortage of ship operators, more than half of whom are over the age of 50.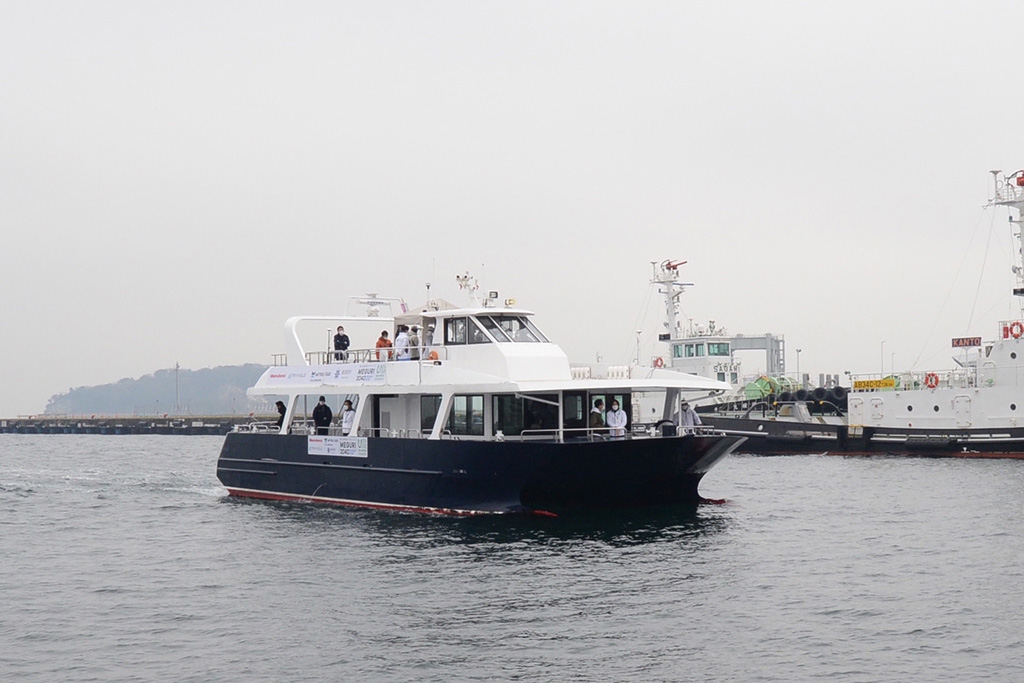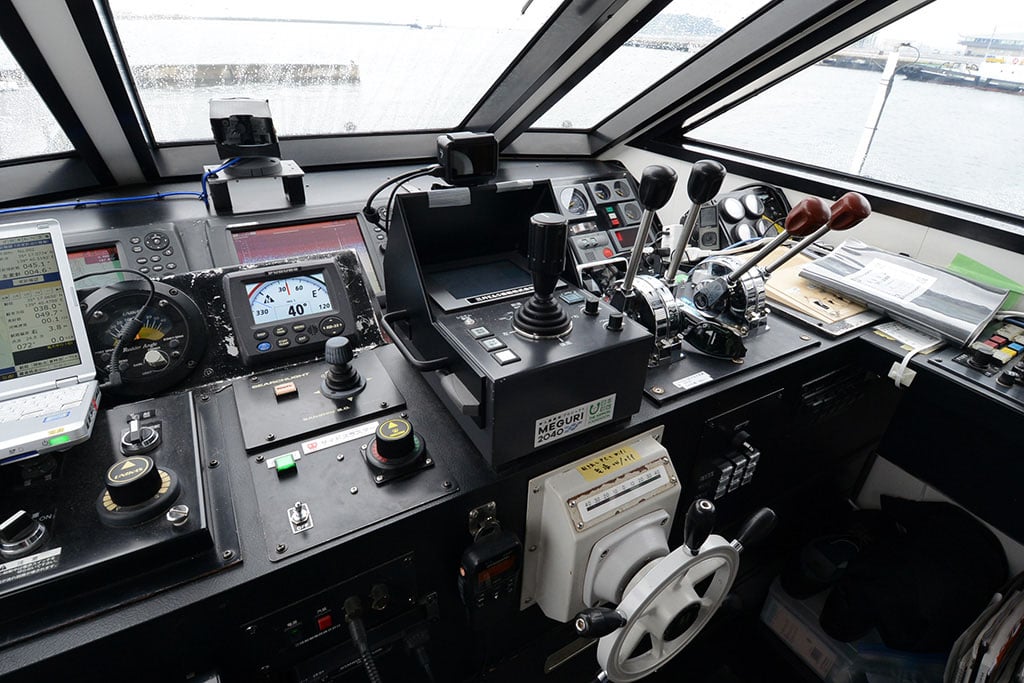 Supporting the future of the oceans with fully autonomous navigation
Fully autonomous navigation is positioned to help address numerous maritime issues including crew shortages and accident prevention. Research and development are also proceeding with the expectation that this will become a "future industry" that can demonstrate to the world Japan's advanced technologies in areas like artificial intelligence, information and communications technology, and image analysis.
The Nippon Foundation launched MEGURI2040 in February 2020 with support for five consortia, which will be conducting verification testing of their results to date between January and March 2022.

Fully autonomous navigation project at Sarushima, Yokosuka
This first demonstration test was of a fully autonomous ship successfully navigating between a pier in Yoksuka and Sarushima island, carried out by one of the five MEGURI2040 consortia. There are currently approximately 2,000 tourism boats operating in Japan, and these boats are also used as a means of transportation to and from offshore islands. According to the Ministry of Land, Infrastructure, Transport and Tourism's Maritime Bureau data, the number of crew members operating these vessels has declined by 30% over the past 20 years, however, to roughly 7,000 from roughly 10,000 in 2000, creating the problems of crew shortages and increased workload per crew member. The technologies developed and successfully demonstrated can be used with small vessels, and are expected to help offset the effect of crew shortages in the future.
Development and demonstration test highlights
The vessel navigated a roughly 1.7-kilometer route from Shin-Mikasa Pier to Sarushima, including departure and docking. The vessel was equipped with various sensors including three cameras that use image analysis to detect small boats, a global navigation satellite system, and an automatic identification system (AIS). The system that uses sensor data to detect other ships or obstacles processes that information and sends it to the fully autonomous navigation system, which automatically navigates around the obstacle. The fully autonomous navigation system also handled docking and departure, which are difficult even for manned crews, with a throttle lever in the control room automatically making repeated, incremental movements.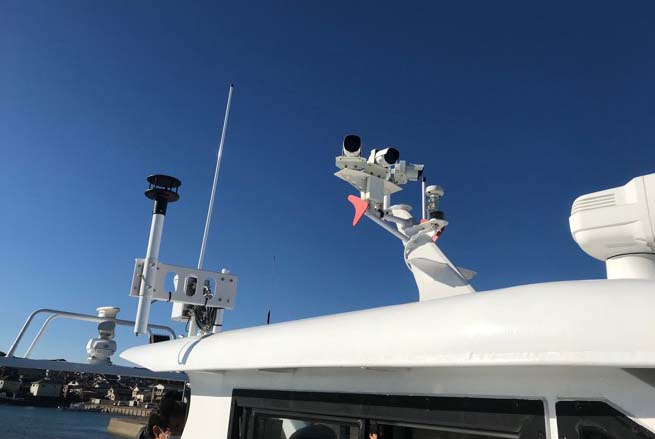 Participants' comments
Mitsuyuki Unno, Executive Director, The Nippon Foundation
Demonstration testing of fully autonomous navigation is actually just a starting point. Going forward, we are aiming for actual implementation by 2025, and using this globally trailblazing technology, we hope to play a leading role in the creation of international rules. I hope that this technological development will become a major step forward for the shipbuilding industry and maritime industries in the future.
Kosuke Takechi, Chief Operating Officer, Aerospace & Ship Division, Marubeni Corporation
Marubeni is the only general trading company participating in this program, which we see playing a role in the creation of a business model for the future. Markets that use fully autonomous shipping and related businesses do not yet exist, but we hope to demonstrate new utility value in the not-too-distant future that will lead to the creation of more extensive social infrastructure.
Takahiro Suzuki, Representative Director, Tryangle Inc.
This project is the first step toward the practical use of fully autonomous ships. We look forward to making proactive use of this technology to address issues like crew shortages and to reduce maritime accidents caused by human error.
Isamu Funatsu, President and CEO, Mitsui E&S Shipbuilding Co., Ltd.
Mitsui E&S Shipbuilding developed and installed the fully autonomous navigations systems that are central to the operation of three of the vessels being used in the MEGURI2040 program. The Sarushima project is taking up the challenge of fully automating all navigational controls, including obstacle avoidance, from departure to docking.
We will use the technologies gained from this project to improve the safety of maritime navigation and address crew shortages.
Hiroyuki Yamaguti, General Manager, Economic Department, City of Yokosuka
This project is part of the "Yokosuka x Smart Mobility Challenge," a project being carried out by Yokosuka City to use cutting-edge telecommunications and mobility technologies to address local issues. Going forward, I hope that autonomous navigation technologies will be introduced within our city and put to wide use in society.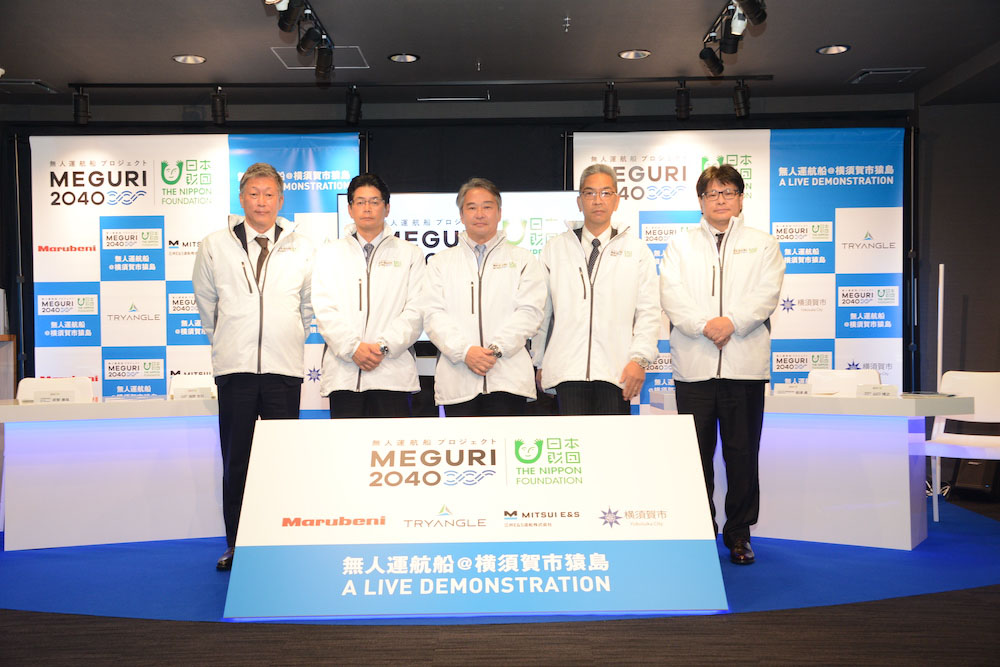 Contact
Public Relations Team
The Nippon Foundation
Email: cc@ps.nippon-foundation.or.jp