5th Demonstration Test of Fully Autonomous Ship Navigation Successfully Completed
Test between Tokyo Bay and Ise Bay marks first successful demonstration of fully autonomous navigation in congested sea area
The fifth demonstration test of The Nippon Foundation MEGURI2040 Fully Autonomous Ship Program, of a fully autonomous container ship and its Fleet Operation Center for emergency monitoring and operation, was successfully carried out between Tokyo Bay and Ise Bay from February 26 to March 1. The test, using the container ship SUZAKU, demonstrated for the first time the use of a comprehensive fully autonomous navigation system (including remote control and land support) for a container ship operating in a congested sea area.
The Nippon Foundation launched MEGURI2040 in February 2020 through support for five consortia. Fully autonomous navigation is expected to help address numerous maritime issues including crew shortages and accident prevention, and also holds potential as a "future industry" that can demonstrate to the world Japan's advanced technologies in areas like artificial intelligence, information and communications technology, and image analysis.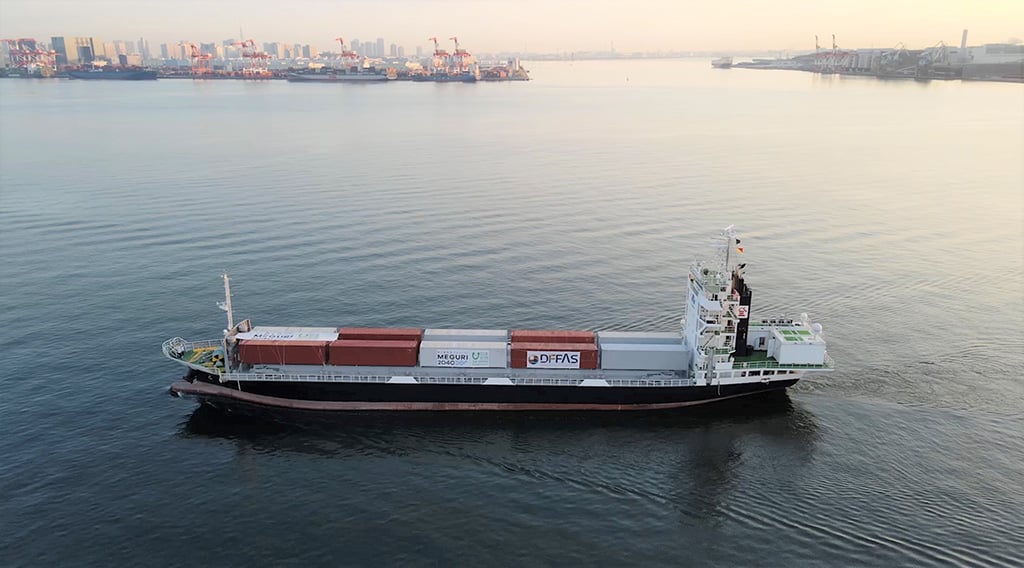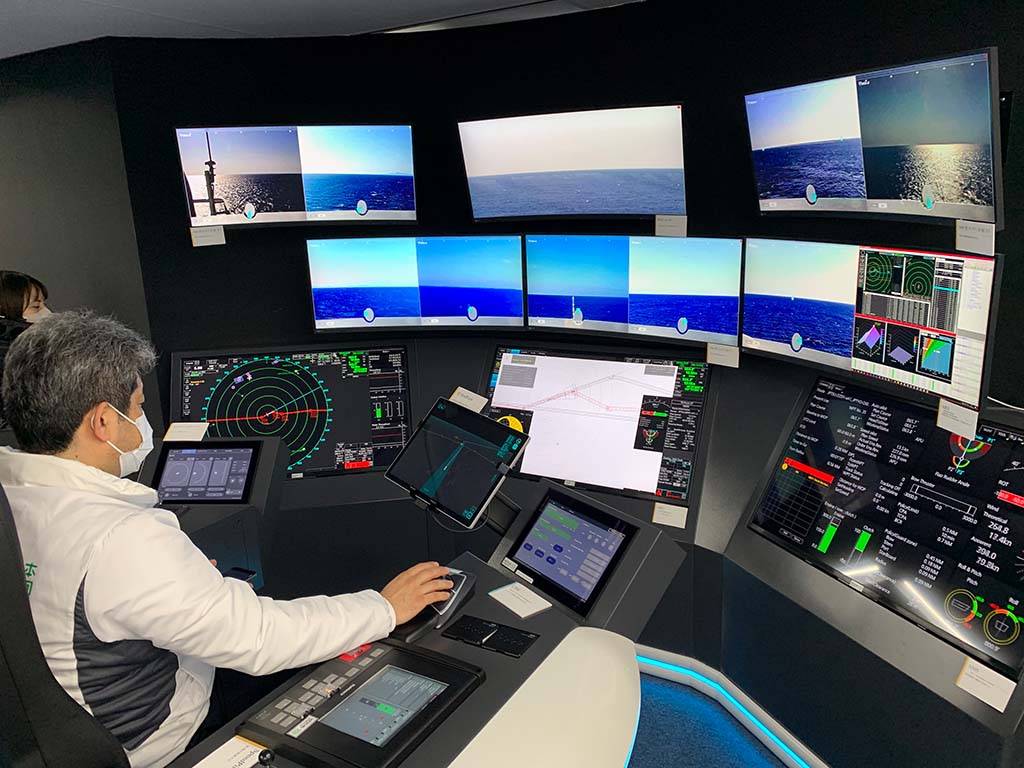 Designing the Future of Full Autonomous Ship Consortium
This successful demonstration test was of an operating system developed by the Designing the Future of Full Autonomous Ship (DFFAS) Consortium,*1 made up of 30 companies from diverse fields using an open innovation framework. In the test, the SUZAKU (95 meters, 749 gross tons) navigated a 790-kilometer round-trip route departing from and returning to Tokyo Bay by way of Ise Bay using a comprehensive fully autonomous navigation system, including remote operation from the Fleet Operation Center in Chiba Prefecture.
Roughly 500 ships pass through Tokyo Bay each day,*2 compared with roughly 40 through the Panama Canal and roughly 320 through the Straits of Malacca and Singapore. This successful demonstration in a highly congested area verifies a high level of technological development that represents a significant step toward practical implementation. In addition to addressing the issues of aging crew and crew shortages facing the coastal shipping industry and the social issue of accident reduction, remote operation from land can be expected to introduce new work styles and increase labor capacity for crews.
The DFFAS Consortium is led by Japan Marine Science Inc., and includes Bemac Corporation, Eizo Corporation, Furuno Electric Co., Ltd., Honda Heavy Industries Co., Ltd., Ikous Corporation, Japan Hamworthy, Co. Ltd., Japan Marine United Corporation, Japan Radio Co., Ltd., Kinkai Yusen Kaisha Ltd., Mitsubishi Research Institute, Inc., Mitsui Sumitomo Insurance Company, Ltd., Miura Co., Ltd., MTI Ltd., Nabtesco Corporation, Nihon Shipyard Co., Ltd., Nippon Yusen Kabushiki Kaisha, NTT Communications Corporation, NTT Corporation, NTT Docomo, Inc., NX Shipping Co., Ltd., Pluszero Co., Ltd., Sanwa Dock Co., Ltd., Sky Perfect JSAT Corporation, Sunflame Corp., Suzuyo Marine Co., Ltd., Tokio Marine & Nichido Fire Insurance Co., Ltd., Tokyo Keiki Inc., Weathernews Inc., and YDK Technologies Co., Ltd.
Demonstration test and development highlights
With an eye toward full-scale implementation, the DFFAS Consortium developed a comprehensive fully autonomous navigation system with repeated risk assessments carried out from the design stage. The system has three primary components: (1) a ship-side navigation system that controls autonomous functions from the ship; (2) a land-side system that monitors and supports the ship from shore, including remote ship-handling functions; and (3) an information and communications system that enables stable communication between the ship and land.
The Fleet Operation Center marks a particular advance, allowing fully autonomous navigation at sea with tracking from land of functions normally performed by crew, including the monitoring of weather and sea conditions, traffic flow, and the ship's equipment. In emergency situations, the system can switch to remote operation from the Fleet Operation Center , ensuring the overall system's safety and stability.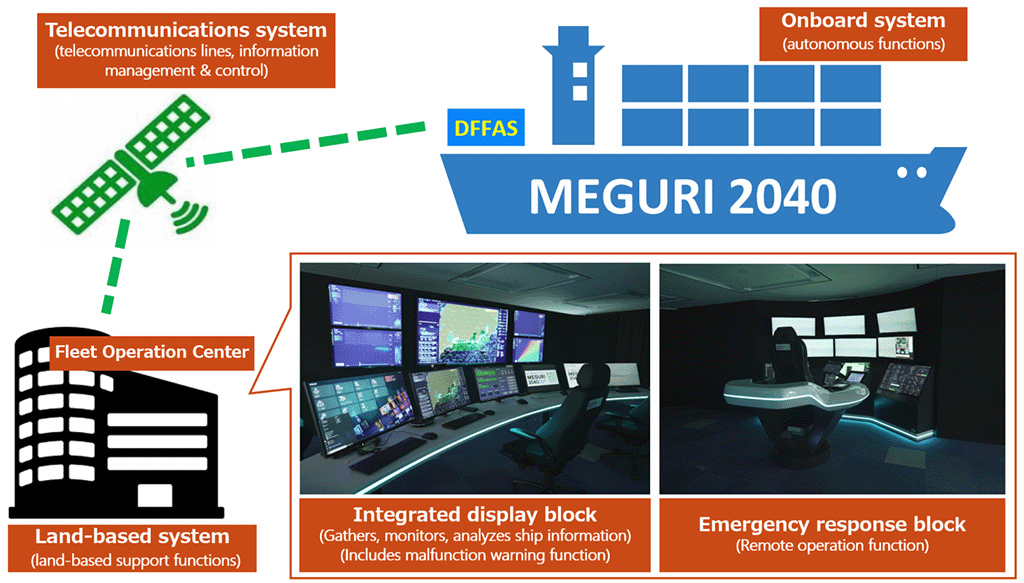 Comments
Yohei Sasakawa, Chairman, The Nippon Foundation
The achievement of fully autonomous navigation is one way to address issues including a decrease in economic activity associated with an aging population and declining birthrate, insufficient crew capacity, and maritime accidents. This technology, developed in Japan, is the first of its kind anywhere in the world. We also hope to contribute to the creation of international rules for fully autonomous navigation.
Koichi Akamine, President, Japan Marine Science Inc.
We have created fully automated navigation by designing and demonstrating completely new systems through open innovation and taking into account the perspectives of ship operators. I am confident that this successful demonstration represents a major step forward toward the practical implementation of fully automated navigation.
Contact
Public Relations Team
The Nippon Foundation
Email: cc@ps.nippon-foundation.or.jp