【TNF Journal】Business's New Relationship with Disabilities(Part 20)
Fast Retailing Is Creating Stores Where "Shopping Is Easy for Everyone" Based on Feedback from Persons with Disabilities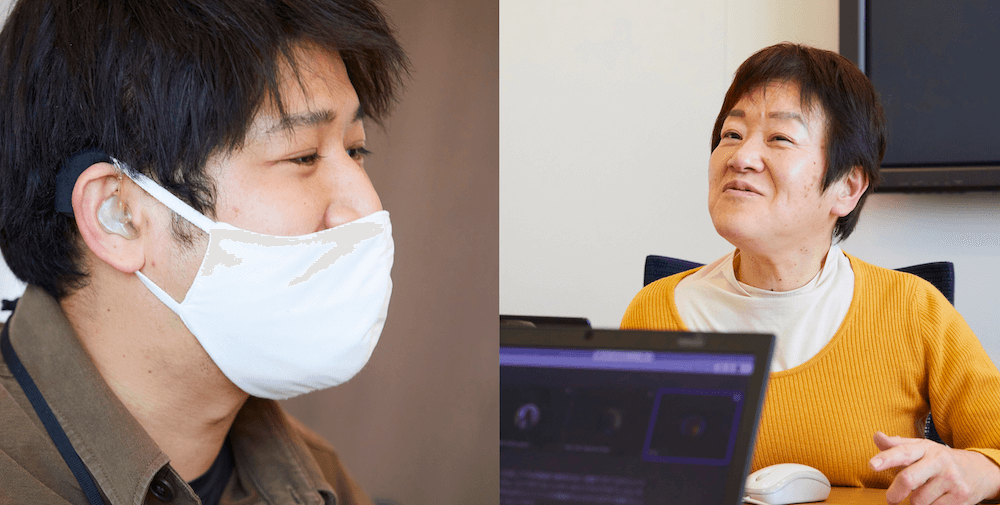 Key Points in this Article
Fast Retailing uses feedback from customers and staff with disabilities to create stores
A disability can also be a "strength." Staff with disabilities are capable of understanding difficulties faced by customers with similar disabilities
A willingness on the part of people with disabilities to communicate to others the considerations they require helps promote diversity and inclusion
Reporting: The Nippon Foundation Journal Editing Department
In recent years, the promotion of diversity & inclusion (D&I*1) has been flagged as a management issue, and many companies are making active efforts to promote the participation of women and an understanding of LGBTQ+*2 issues.
*1

A viewpoint that respects and makes positive use of diversity, regardless of a person's attributes, such as gender, age, race and disability.

*2

A general term for sexual minorities and an acronym that stands for the following sexual minorities: lesbian (female homosexual), gay (male homosexual), bisexual, transgender (a person who feels their gender is at odds with what they was assigned at birth), questioning (persons unsure of their own gender or the gender they are attracted to), and + ("plus" represents other sexual orientations and gender identities not already covered).
Fast Retailing Co., Ltd. (external link), as introduced in the previous article, has been actively employing persons with disabilities for more than 20 years, long before the term D&I was widely used, and has respected the diversity of its employees regardless of such differences as nationality, race and gender.
Furthermore, reflecting the feedback from staff and customers, Fast Retailing has made repeated efforts to verify and improve store fittings and operations to create barrier-free stores.
On this occasion, a member of the Nippon Foundation Working Group* spoke to Tomohiro Shiota of the UNIQLO Sales Department Store Policy Team & Diversity Promotion Team, who is involved in the promotion of D&I and who himself is hard of hearing.
*

Members who engage in research and planning at the Japan Foundation, whose aim is to accelerate the participation of persons with disabilities in society.
From the viewpoint of persons with disabilities: a store where shopping is easy for everyone
Okuhira: I am Masako Okuhira from the Nippon Foundation Working Group. To start, Mr. Shiota, please tell us about your work.
Mr. Shiota: I work in the UNIQLO Sales Department as part of the Store Policy Team, which serves as a liaison in coordinating the regions and stores. At the same time, I also work with the Fast Retailing Diversity Promotion Team. At Fast Retailing, we are promoting D&I with four main targets: the participation of women, foreign employees, LGBTQ+, and the inclusion of persons with disabilities. I am involved in operations for persons with disabilities, and our team has launched the "Here For ALL Your Needs Project."
In this project, we consider services from the customer's point of view that allow people with disabilities to enjoy shopping with a sense of confidence, and at the same time deepen the understanding of store staff regarding disabilities, to change their awareness.
Okuhira: I previously saw a TV news program showing customers who are partially sighted being guided around a store prior to its opening. Was this part of your project?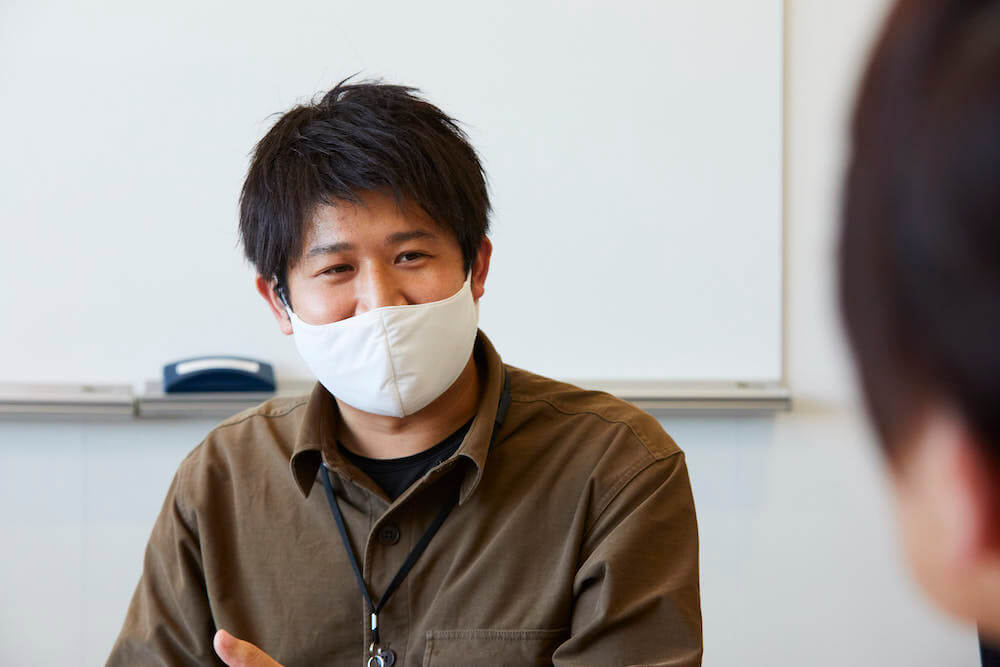 Mr. Shiota: Yes, that is correct. The event, which was prompted by a letter from a partially sighted customer, took place at UNIQLO's Ginza store. In the letter, the customer wrote that the UNIQLO store had so many customers that she didn't know where to find staff who could help her. She said that even when she raised her white cane as an SOS signal, none of the staff seemed to know the meaning of this gesture, and she felt helpless. This made us realize that we had to do something to address this situation. In December 2020, the UNIQLO Ginza store started providing an attendant service, which can be booked beforehand, whereby dedicated staff assist customers who have visual disabilities with their shopping. If requested, staff will also meet and escort customers to the store from the nearby station, and also escort them back to the station after their shopping.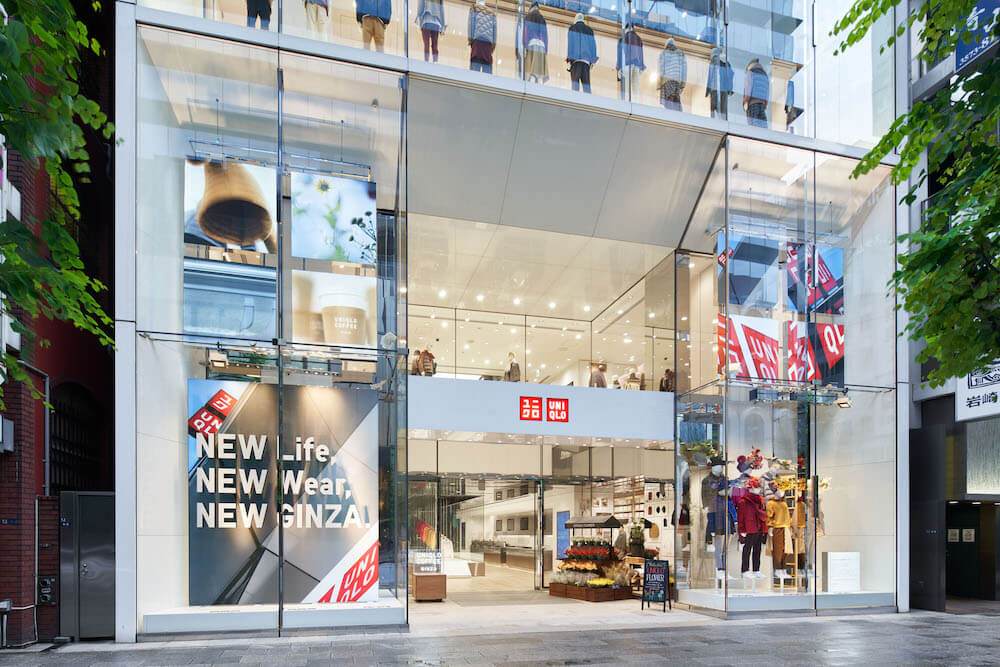 Okuhira: That is a wonderful initiative! I also heard that Fast Retailing conducted a review of the steps in stores to enable wheelchair users to shop safely.
Mr. Shiota: When we conducted investigations to consolidate the problems of customers who use wheelchairs, we found that out of more than 800 UNIQLO stores nationwide, all stores along main roads, which account for about half of the total number of stores, have steps at the entrance.
We recognize that we failed to foresee the difficulty of customers in wheelchairs in entering the stores. Nevertheless, renovating all of the stores would take a significant amount of time and money. Therefore, we now have an arrangement where staff stand at the entrance of the store to assist customers.
Okuhira: Since starting such a service, has the number of customers who are wheelchair users increased?
Mr Shiota: Yes, it has. Not only customers who use wheelchairs but also customers with small children have said that it has become easier to visit the store with a stroller.
Okuhira: That's a very good example. For someone like me who uses a wheelchair, it's nice to hear that.
If you have a problem, you should say so without hesitation – Words of our president that changed my world view
Okuhira: Mr. Shiota, please tell us a little about yourself. When did you join the company?
Mr. Shiota: In 2011, when I graduated from university. After working at a store for two years, I moved to headquarters. There I worked in general affairs before working in my current departments.
Okuhira: What kind of work did you do at the store?
Mr. Shiota: I was mainly in charge of alterations such as hemming. The store manager was the one who gave me a push, saying, "It doesn't matter if you are hard of hearing." So I sometimes went on the sales floor and communicated with customers in writing.
Okuhira: What was it that made you transfer to headquarters?
Mr. Shiota: When you work at a store, you know only about that store, but at headquarters, you can see the UNIQLO business as a whole. The most compelling reason was that I wanted to take on a more challenging job!
Okuhira: As you tackle your work, does the company make any considerations for you in any way?
Mr. Shiota: Of course, there are areas where the company gives me special consideration, but there are more cases where I make requests myself. For example, when I communicate with someone, I do lip reading. However, when I attend a meeting with multiple participants, it is difficult to do so. Therefore, in such a case, I usually ask the person who is organizing the meeting to instruct me individually about the purpose of the meeting and its goal in advance. By doing so, I can prepare for the meeting and, in some cases, there may be no need for me to attend the meeting.
Okuhira: I think it's very good for you to properly communicate your needs to others. Many people have difficulty because they can't communicate well.
Mr. Shiota: To be honest, I was quite reluctant to speak up before I joined this company. Previously, I had the opportunity to talk one-on-one with our president, Mr. Yanai, who warned me, "It's not good to be passive just because you can't hear." (laughs) "Because you have more problems than the people around you because you can't hear, you are capable of noticing problems that the people around you don't notice. In fact, it is a weapon that only you can take advantage of." My world view changed completely when he told me, "You should not be hesitant to tell others that you are unable to hear, and you should ask them to do this and that for you."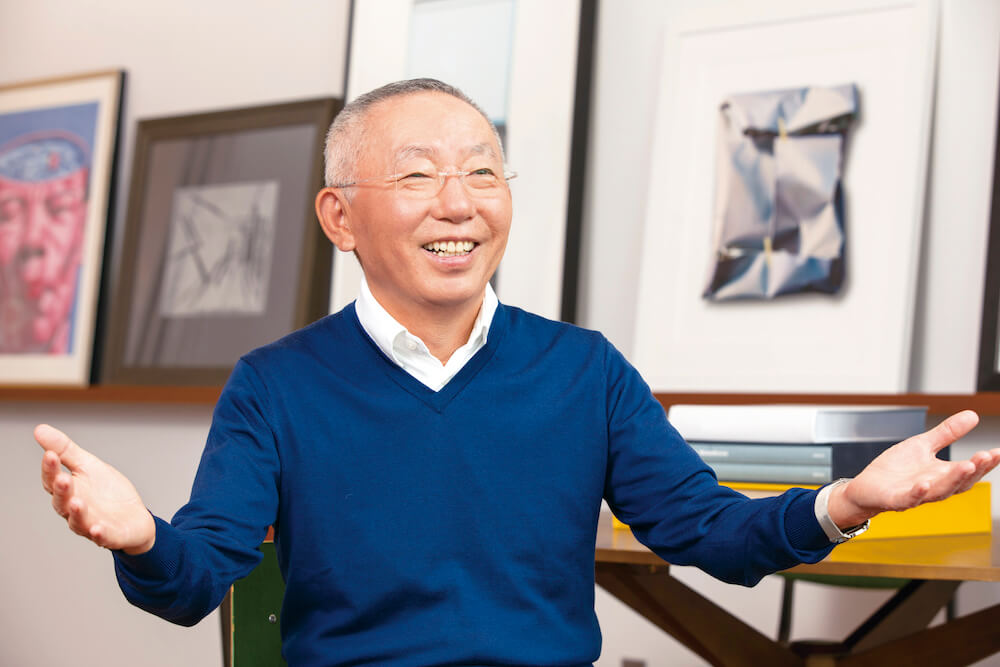 Okuhira: There aren't many bosses who give such encouraging advice. I now want to meet Mr. Yanai too.
When special consideration is required, the person with a disability should communicate that himself/herself.
Mr. Shiota: However, I often find it difficult to communicate because I can't hear. Recently, at a store in Osaka, when we held an event for medical professionals to introduce UNIQLO products that are easy for the elderly and persons with injuries to put on and take off, I received the cooperation of various people including hospital officials, nursing association officials and caregivers, but there were times when I was not able to properly grasp the information that the others were trying to convey.
Okuhira: What do you do when a problem like that occurs?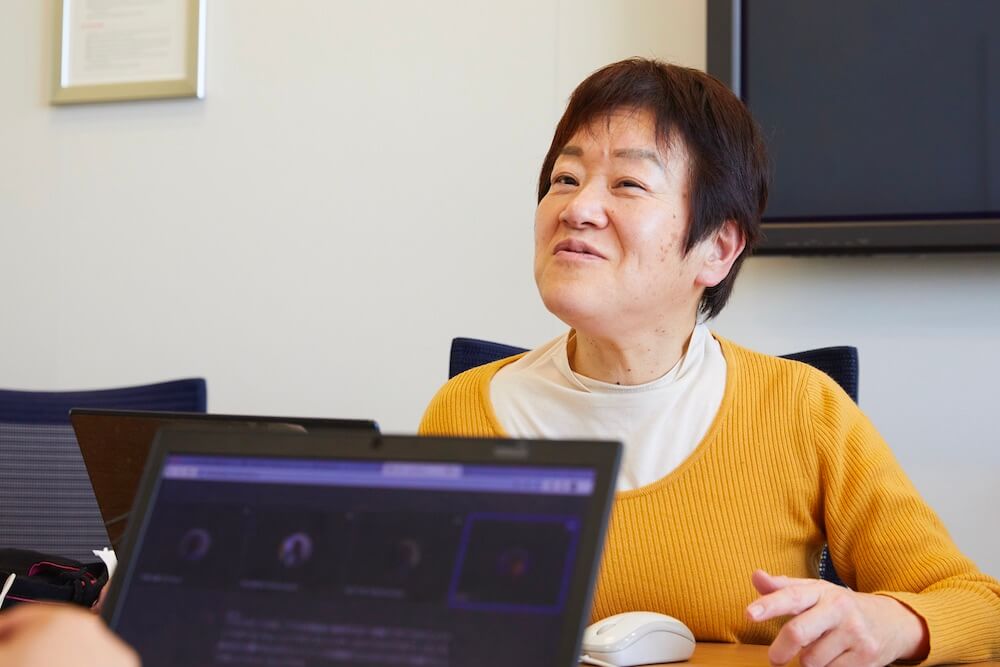 Mr. Shiota: What happens in a case like that cannot be helped, and I try to resolve the situation by thoroughly discussing the matter on the spot. I make use of such experiences as something that needs to be reconsidered for the next opportunity.
Okuhira: I believe your attitude is positive and constructive. Do you enjoy your work?
Mr. Shiota: Very much so. The project I am involved in has the clear task of satisfying customers and resolving issues, so there are few people who oppose it (laughs). The people around me join me in considering whether the task is really correct, and they support me.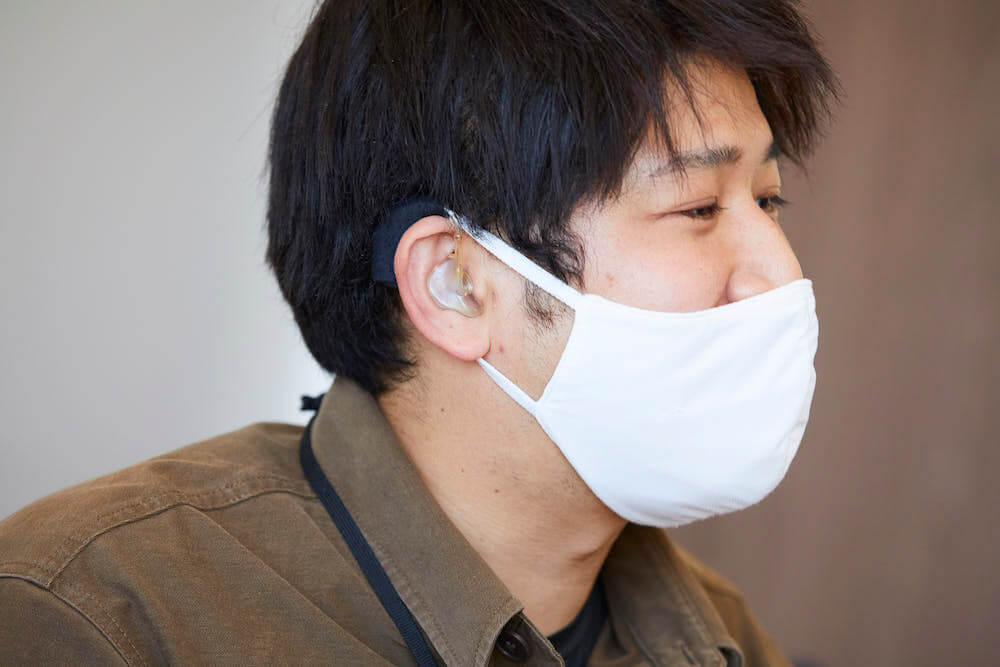 Okuhira: It's best when we enjoy our work. What do you feel are the issues in promoting D&I?
Mr. Shiota: It's hard to say in a nutshell, but I feel that one difficulty lies in the different ways in which people perceive the meaning of the word "diversity."
For example, some people think that putting braille blocks on roads for the blind is a form of "diversity." However, placing braille blocks on the ground makes it difficult for wheelchairs and strollers to pass over them. I feel that it is necessary to take a broader perspective and think about how to create an environment that is easy for everyone to use.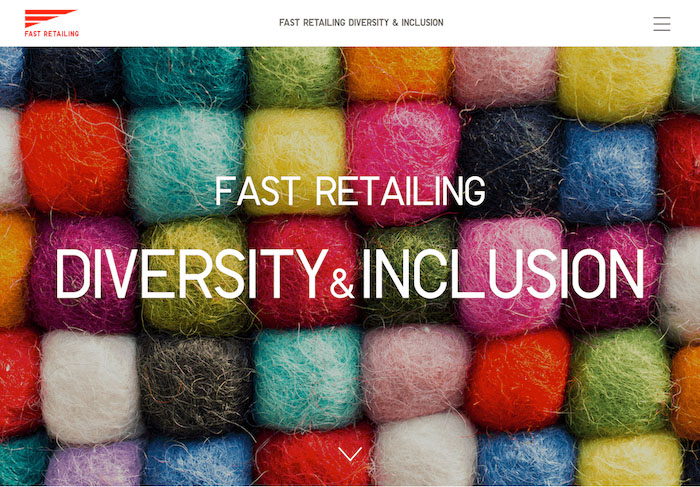 Okuhira: It's true that "diversity" is a convenient word, and the way people regard it depends on their own particular perspective. Finally, do you have a message for people with disabilities who want to work for a company like you?
Mr. Shiota: My view may be a bit harsh, but I believe some people think it is only natural to have people look after those of us with disabilities. When I first joined the company, I had unconsciously thought that it was natural for the company to prepare materials for someone like me who is deaf. However, a company is not necessarily aware of all the considerations required. I think it is important for people like me to properly communicate what I require to create a comfortable working environment.
Okuhira: I also have experience, so I can understand what you are saying very well. For people with disabilities, this may be true not only in the workplace but in all situations. Thank you very much for your time today.
Photo: Eizaburo Sogo