【TNF Journal】Business's New Relationship with Disabilities (Part 21)
Creating a Model for "Working Together" and Expanding It Within the Company Showa Denko Is Creating an Environment Where Persons with Disabilities Can Play an Active Role
Key Points in this Article
Showa Denko has set up a team to promote employment for persons with disabilities and create work that applies their special characteristics
Showa Denko intends to enhance the presence of persons with disabilities for the benefit of the company through their performance of "work that is essential" rather than "auxiliary work" of staff
With the stationing on site of job coaches, the company is working to create an environment where persons with or without disabilities can play vital roles in the workplace
Reporting: The Nippon Foundation Journal Editing Department
Producing superior products in various fields such as petrochemicals, chemicals, inorganics, aluminum, and electronics, Showa Denko K.K. (external link) is a leading chemical manufacturer in Japan. In 2015, the company set up a Job Support Team (JST) centered on staff with disabilities to promote the employment, training and retention of persons with disabilities. Today the JST is recognized as a team responsible for work that makes significant contributions within the company. In its early days, however, the JST is said to have encountered many difficult challenges.
On this occasion, members of the Nippon Foundation Working Group* interviewed Mr. Hideaki Suzuki, Ms. Yuki Ichikawa and Mr. Jun Hamada from the Department of Human Resource's Diversity Promotion Group, who are leading the JST, and Mr. Hitoshi Nakamura who is an employee with a developmental disability and member of the JST.
*

Members who engage in research and planning at the Nippon Foundation, whose aim is to accelerate the participation of persons with disabilities in society

*

Department names and job titles are current as of December 2021 when the interview was conducted.
Creating a model for working together with employees with disabilities
Okuhira: I am Masako Okuhira from the Nippon Foundation Working Group. To start, please tell us about the current status of the employment of persons with disabilities at Showa Denko.
Mr. Suzuki: As of June 2021, the employment rate of persons with disabilities was 2.36%, and 93 persons with disabilities were working at the company. I have prepared a graph showing the changes in employment of persons with disabilities since 2014, the year I joined Showa Denko.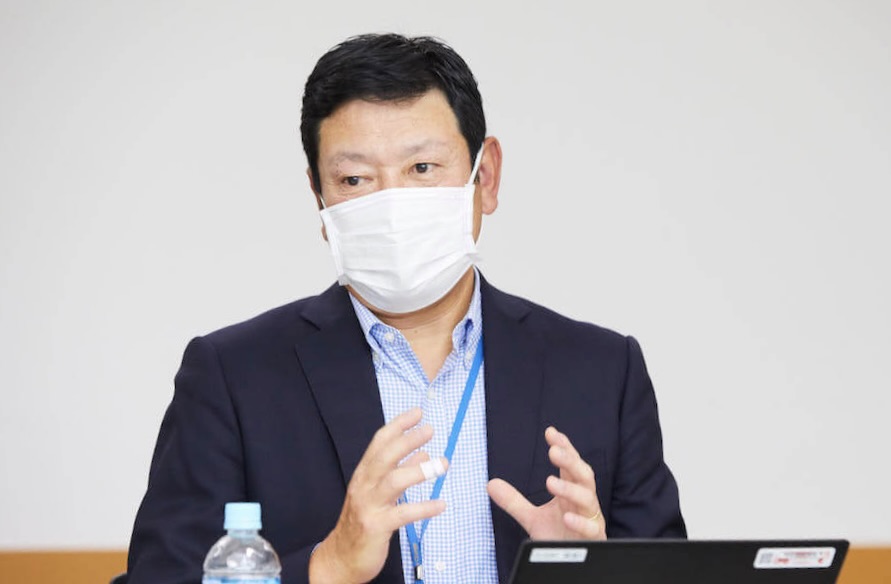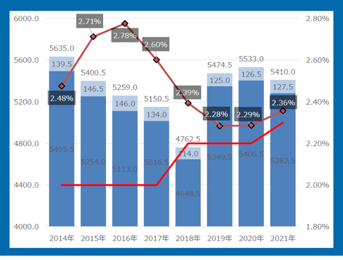 Okuhira: I understand that you have been continuously achieving the statutory employment rate.
Mr. Suzuki: Yes, we have. However, we feel that we should not focus too much on the statutory employment rate. Until 2013, our hiring was focused on the obligation to achieve the statutory rate, and we received many negative remarks from our plants, which are our main employment sites. There was concern that the safety of persons with disabilities could not be ensured and that there wasn't enough time to provide education and guidance.
Okuhira: So, I see that it was not particularly smooth sailing from the beginning.
Mr. Suzuki: Exactly. We were pretty much groping our way. With the enforcement of the amended Act on the Promotion of Employment of Persons with Disabilities on April 1, 2018, "persons with mental disabilities" were also added. However, Showa Denko lacked the know-how to hire people with disabilities other than physical disabilities. Therefore, we launched a new project and set up the JST to accumulate employment know-how about people with intellectual, developmental and mental disabilities.
Okuhira: Please tell us about the activities of the JST.
Mr. Suzuki: We started by hiring one person with intellectual disabilities and one person with mental disabilities, and creating jobs where they could apply their respective strengths. Initially, in addition to the collection and delivery of in-house mail and looking after the meeting rooms, the work focused on simple tasks that we went to great lengths to arrange with various departments by asking them to provide work tasks. However, to promote the employment of persons with disabilities in earnest, I realized that it was necessary to enhance the value of the presence of our employees through work that was "essential" for the company, rather than a jumble of "auxiliary work." With this in mind, we expanded the work tasks little by little.
Okuhira: What kinds of work is JST currently doing?
Mr. Hamada: There are a wide variety of tasks, which are divided into routine tasks such as the collection and delivery of in-house mail services, which JST members have been doing since the start of the JST, and request-based tasks, such as business card printing and other printing services, the complete deletion of data when we dispose of computers, and USB security setup. Most of the request-type work is in-house services that were previously outsourced.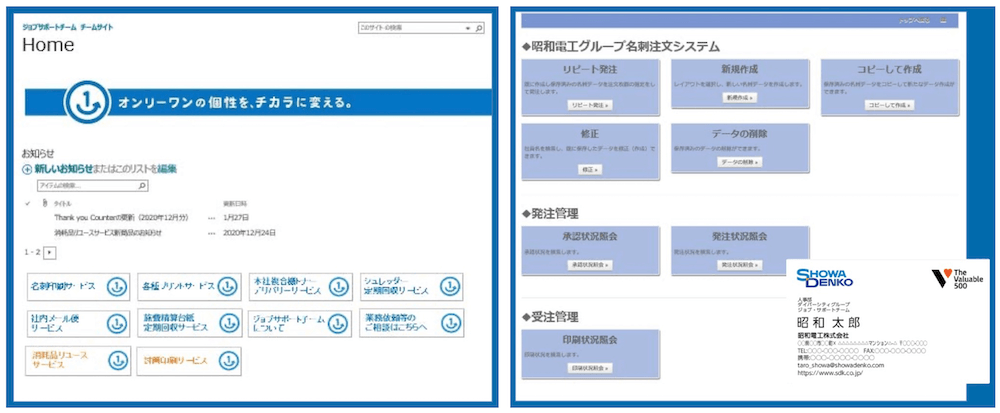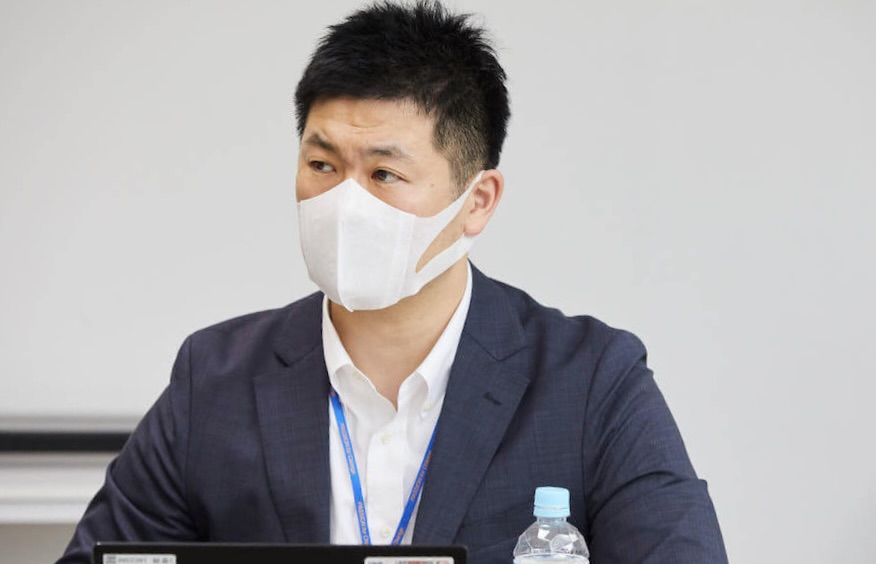 Okuhira: When I had the opportunity to actually go and see the JST at work, I felt that you had quite an excellent system, but did you have any difficulties in bringing outsourced work in-house?
Ms. Ichikawa: Initially, yes. We had a raft of problems (laughs). To proceed with work efficiently, it was essential that we properly understood the strengths and abilities of each employee and to then allocate work that suits them as individuals. Therefore, we created a skills map for the team members to visualize what they were capable of doing, what they were not good at, and the skills they wanted to acquire in the future. Based on this skills map, we created a system for setting individual goals and marking them when they were achieved. Achieving one skill builds self-confidence and also has the effect of promoting self-growth.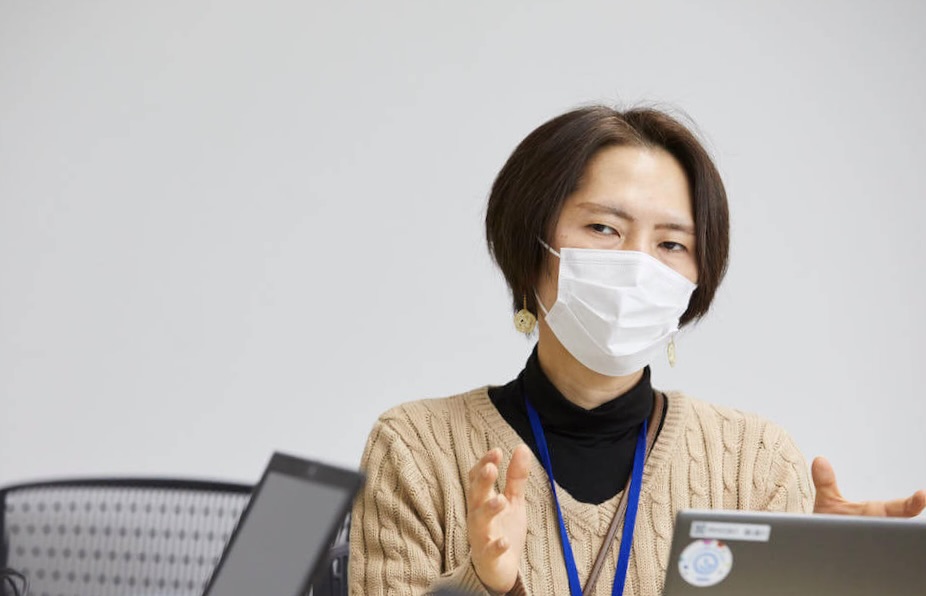 Okuhira: Can you describe the members who are working at the JST at present?
Ms. Ichikawa: We currently have eight members, who have different characteristics. For example, Ms. K, who was diagnosed with a developmental disability after reaching adulthood, has repeatedly changed jobs and joined Showa Denko in search of a place where she can work for a long time. She is a very intelligent person, who scored 940 points on his TOEIC exam, but she is very particular about matters and sometimes has difficulty communicating. So, every time she has some difficulty of this sort, I try to explain, "If you are to work in the same place for a long time, it is essential that you are not disliked by the people you work with," and I give advice on how to communicate in a friendly way with others.
Then there is Ms. T, who has a mild intellectual disability. She has a very rich imagination and pays close attention to details, but it may take her some time to understand and to make decisions. As a result, it takes her longer than the average person to complete work, and there is a tendency for her to fall behind in her work. Therefore, we try to convey instructions in simple words, and devise ways for allowing her adequate time so that she can work without feeling anxious. The JST also accepts students from special needs schools for on-site work experience and when I entrusted Ms. T with the company briefing during preliminary talks with students, she was very thorough in her preparation from the process of creating presentation materials and she did a very fine job.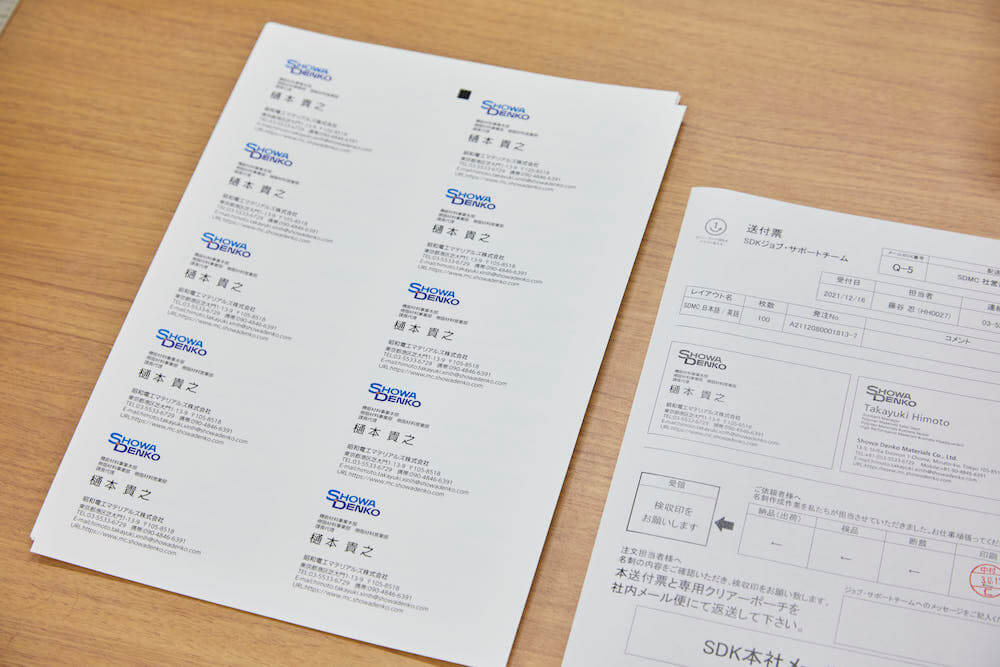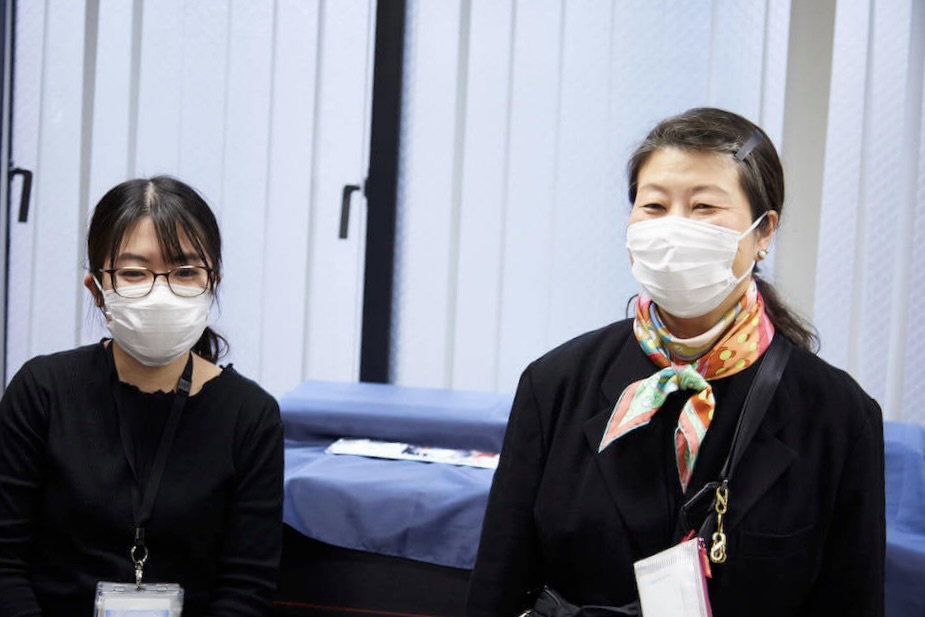 Okuhira: You are very meticulous in looking after each person, aren't you?
Mr. Suzuki: Skills maps are widely used in the manufacturing industry. However, at many plants, I have the impression that there is a tendency for them to be used for making negative decisions, such as a person without a disability can achieve up to this level while a person with a disability can go only this far. Therefore, we view the JST as a model case, and by having people see this method, we are demonstrating that such a method exists within the organization.
Okuhira: I see. Having an example makes it easier to understand and introduce.
Confronting one's problems, making improvements and finally arriving at a place where one feels comfortable
Okuhira: I would now like to ask Mr. Nakamura some questions. May I ask you about your own disability and what made you decide to join Showa Denko?
Mr. Nakamura: Sure. In elementary school, I was diagnosed as having ADHD (attention-deficit/hyperactivity disorder) when I was in fourth grade, and in junior high school, as having high-functioning autism.*1 After reaching adulthood, I was diagnosed as being on the autism spectrum*2, and was issued with a disability certificate in 2015.
*1

Autism without any delay in intellectual development

*2

A developmental disorder characterized by a lack of adeptness in interpersonal relationships, and having strong preferences
I went as far as graduate school, and was hoping to find employment at a company with robot-related work, but job hunting did not go well. I registered with a temporary employment agency due to my frustration but ended up resigning from the agency after a month. It was not compatible with my situation. Because of these various circumstances, I felt very depressed, thinking that there was no place for me to be myself.
Realizing that I could not go on like this and that I had to do something, I consulted with the Development Consultation Support Center, where I learned about the Employment Transition Support Institution.* Attending the institution and concentrating on training for a while, I decided to come to terms with my problems and to try to improve my situation. One year went by, and about the time that I was considering looking for employment again, I was invited to participate in the practical training at Showa Denko.
*

An institution that offers training and support for knowledge and skills needed for employment for persons with disabilities under age 65, who are seeking employment at general companies.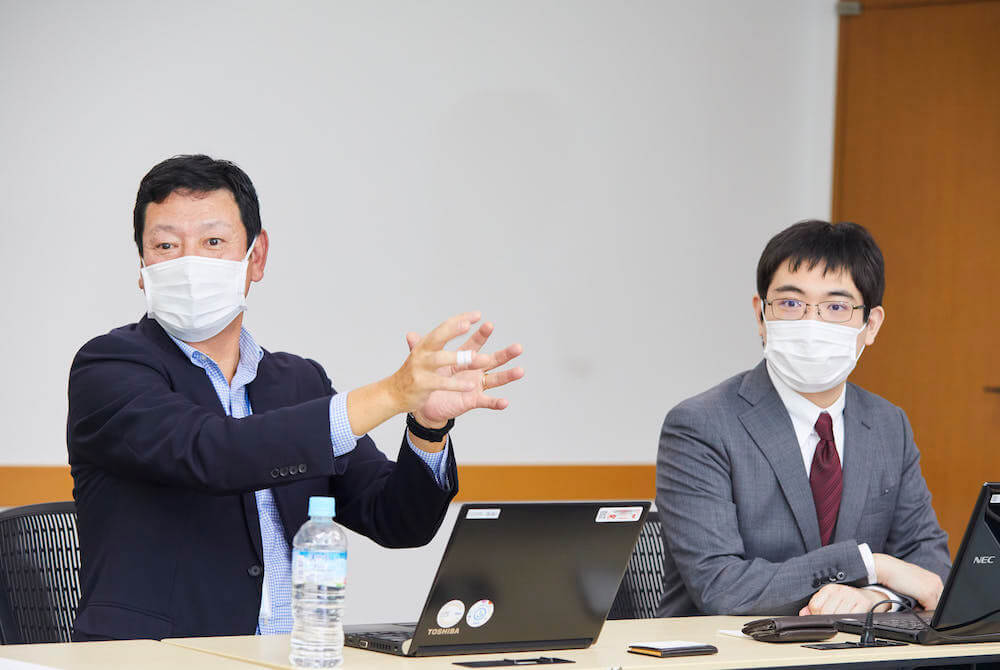 Okuhira: It must have been so hard for you, as people did not understand your disability. At the same time, it was good that you tried to press ahead.
Mr. Nakamura: But during the first training session, I wasn't physically fit and fell asleep during class (sardonic smile). From that day on, I began to actively exercise by increasing the distance I walked and trying other means to improve my physical strength. As a result, during the second training session, I was able to complete tasks assigned in addition to my normal work. My efforts were recognized and I was able to join the company.
Okuhira: What kind of work have you been doing since joining the company?
Mr. Nakamura: I've been involved in printing, creating e-learning content, developing various systems to improve JST work efficiency, and creating manuals so that other employees can use the system I created. At present, I have been handing over these tasks to junior employees and while providing them with support, I have been involved in the development and launch of new businesses.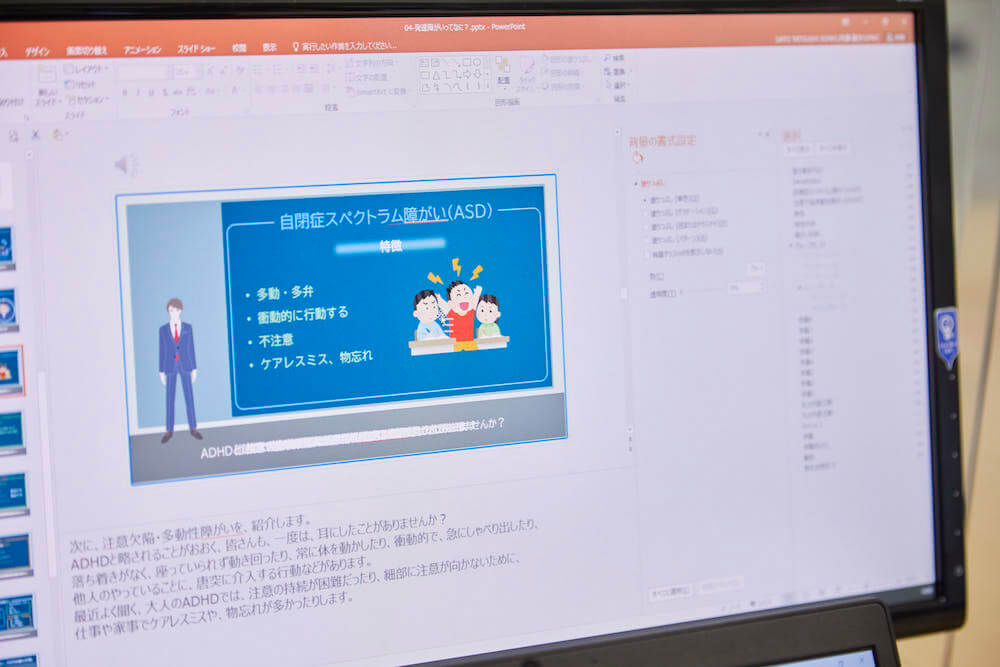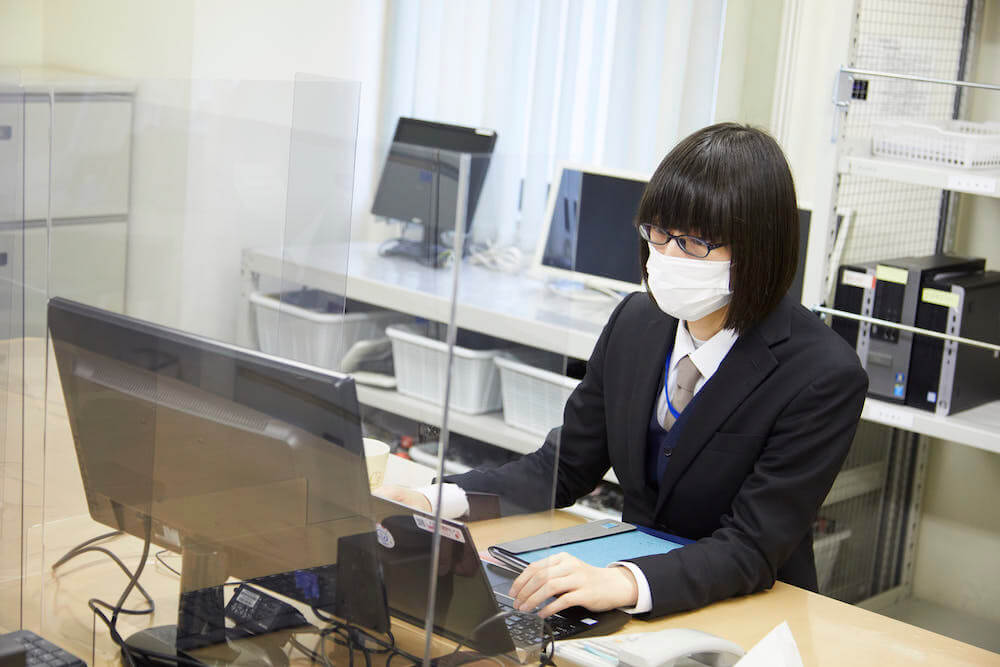 Mr. Suzuki: When a state of emergency was declared due to the COVID-19 pandemic and work of the JST members was suspended, the JST members conducted self-development at home with the goal of acquiring their Microsoft Office Specialist qualification. Mr. Nakamura taught them online how to draw up learning plans, and assisted them like a teacher by explaining areas that they found difficult to understand. In fact, everyone was successful in acquiring their qualification.
Okuhira: So, you also fulfill the role of team leader! What special considerations would you like to be given for your own disability?
Mr. Nakamura: In the past, I wasn't very good at verbal communication, so I communicated by email as much as possible. I also find it difficult to cope with sudden adverse situations such as when I make mistakes or encounter problems. At such times, I get upset, so I am allowed some time to go away from my desk until I settle down. In the past, I had great difficulty in organizing information, and when I failed, I tended to blame myself more than necessary. I no longer get upset with making small mistakes.
Okuhira: So you have changed little by little, it seems. Can you give us some advice for people with disabilities who want to work for a company like you, Mr. Nakamura?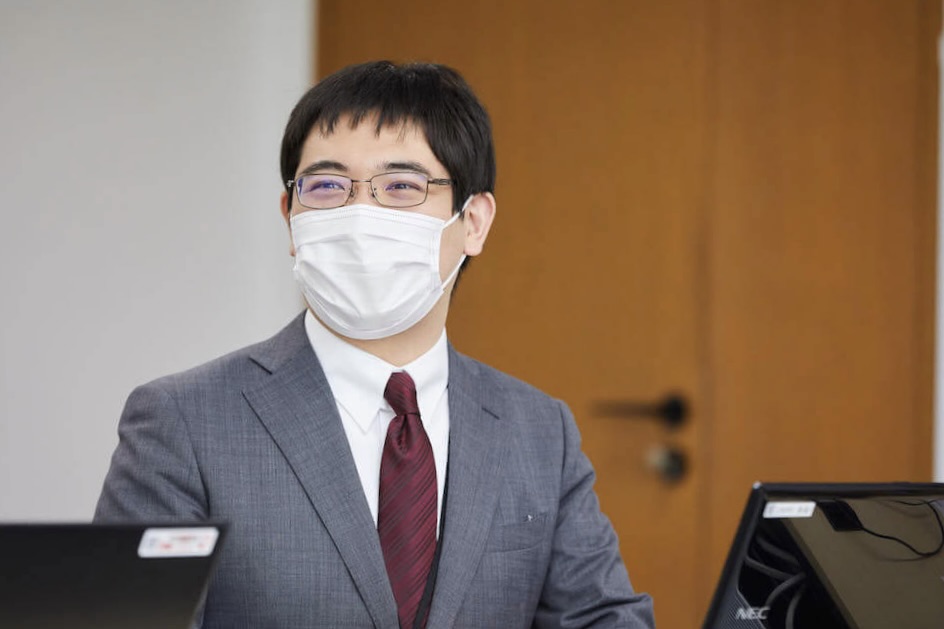 Mr. Nakamura: There are three things that I believe to be important when working as a member of society.
The first is to work hard and achieve outcomes. To do that, it is very important to accept the opinions of others honestly, act without fear of failure, and go through the repeated process of trial and error in your own way. The second is to know the depth and breadth of your interests. As I became interested in current affairs, the range of my communication within the company expanded. The third is to maintain an ongoing relationship with your acquaintances. For me, my relations with friends both motivate me and support me in continuing my work.
I hope my advice will be helpful to you in some small way.
Okuhira: Thank you very much. Up until now, you have steadily accumulated a lot of experience. I think it is wonderful.
A company where everyone can play an active role by sharing accumulated know-how
Okuhira: What kind of changes occurred as a result of the establishment of the JST?
Mr. Suzuki: We have gradually become known through our business such as printing and in-house mail service, and we often receive words of thanks for the services we provide. I feel that there has been a deepening of the understanding of "companions working together."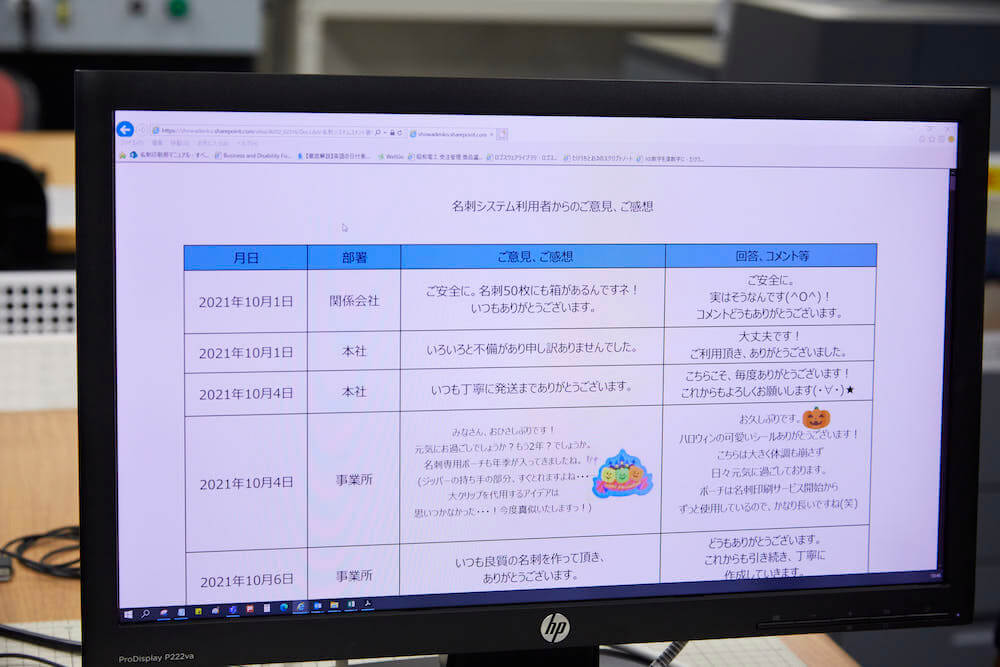 Okuhira: Mr. Suzuki, I heard that you have also obtained a qualification as a job coach.*
*

Persons who engages in discussions and proposes improvements in the work environment as necessary so that people with disabilities can adapt to the workplace. This position was created through the "Job Coach Support System" established by the Ministry of Health, Labor and Welfare in 2002, and there are no qualifying tests or the like.  A person can work as a job coach after taking a short-term course.
Mr. Suzuki: Yes, that's correct. Employees with disabilities are also working outside of the JST, and encounter various problems depending on the work site and the person. I feel that it is the fundamental role of supervisors to draw out the abilities of the staff who work under them, irrespective of whether or not they have a disability, but once a supervisor adopts the view that a person cannot do a certain thing because he or she "has a disability," this is not possible. And sometimes supervisors don't even know what the person with a disability is having trouble with. Therefore, we provide support to create an environment where people can play an active role regardless of their disabilities, by conducting individual interviews, proposing work sites, and offering consultation services.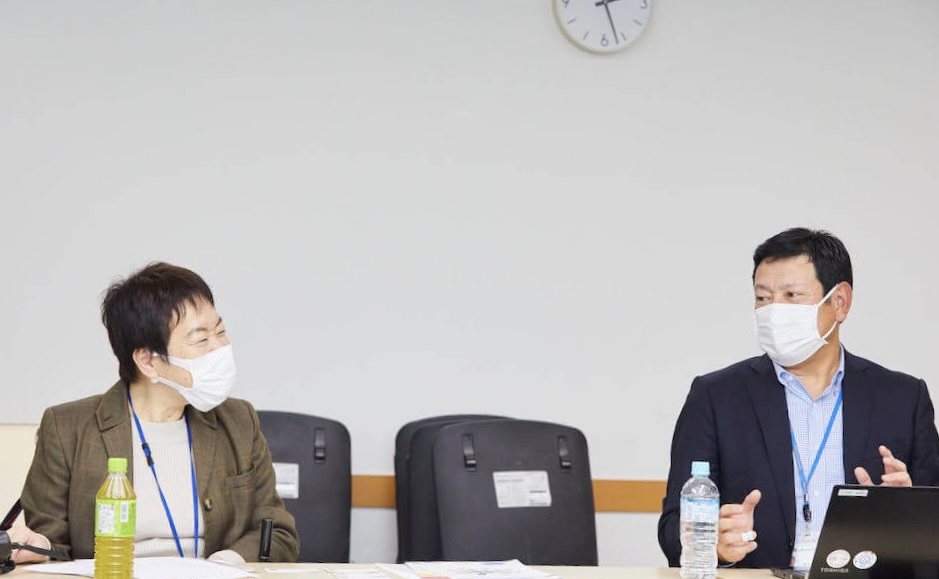 Okuhira: It would be ideal if all supervisors thought that way. It is also rare to have job coaches permanently stationed at a company.
Mr. Suzuki: I want to value each person and have everyone become individuals that contribute to the company. Our approach is to gradually increase the number of employees in other departments who understand, rather than aggressively push them, saying "Let's hire more people with disabilities." As a start, it would be great if people with disabilities could be recognized as "mates who work together" by getting other employees to become aware of the existence of the JST through its business card printing services.
Okuhira: I hope that you will share the know-how and positive example of the JST. Thank you very much for your time today.
Photo: Eizaburo Sogo