Removing 1.2 Tons of Debris from Beach on Remote IslandDemonstration uses landing craft, special vehicles, and volume reduction equipment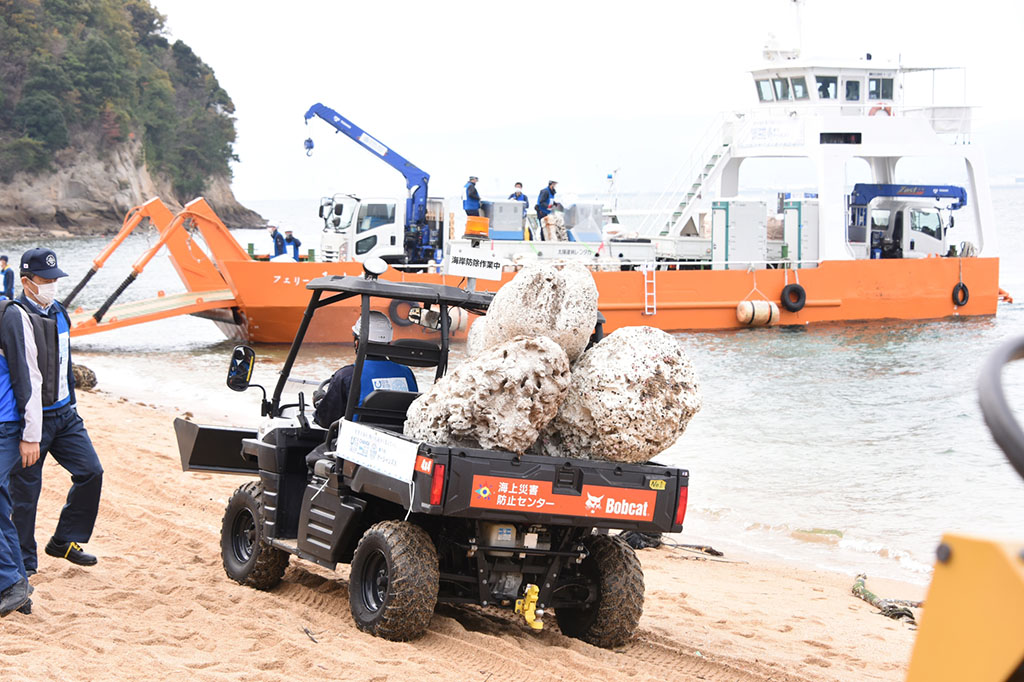 The Nippon Foundation, Hiroshima Prefecture, and Otake City held a joint demonstration project on November 17 on Atata Island for the efficient recovery and processing of large amounts of debris that have washed up on a remote island that is difficult to access, as part of their efforts to reduce plastic ocean debris.
Using a landing craft (private ferry) that can land on beaches with no pier, special vehicles for transporting materials and cleaning beaches, and plastic volume reduction equipment used in wholesale markets and factories, roughly 1.2 tons of debris including large plastic foam floats (approximately 3 kilograms each) was removed from a roughly 350-meter section of Nagaura Beach.
Approximately 200 people, including members of the local fishery cooperative and the local Maritime Disaster Prevention Center, Hiroshima prefectural government and Otake city government employees, and people working with the volume reduction equipment manufacturer took part in the project, and were joined by Hiroshima Prefecture Governor Hidehiko Yuzaki and The Nippon Foundation Chairman Yohei Sasakawa.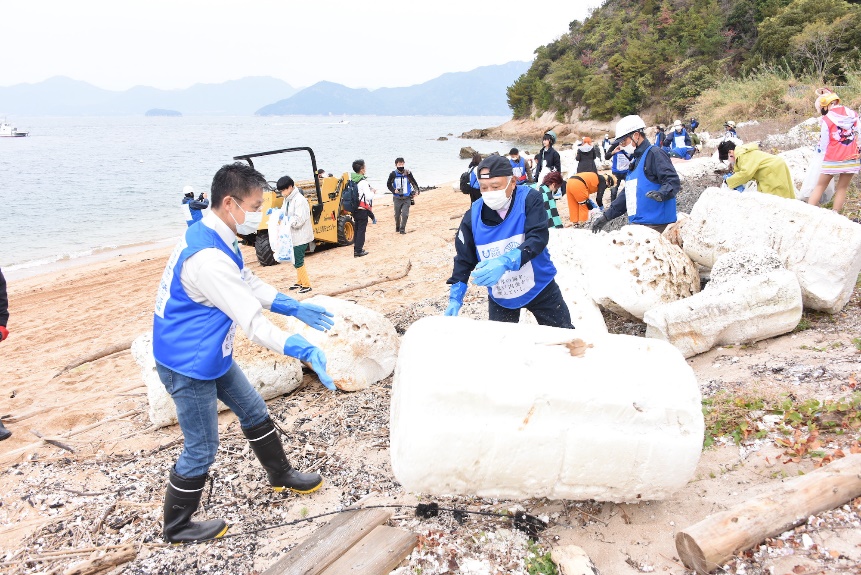 The project demonstrated that large beach debris can be collected, processed, and transported with greater efficiency and energy savings, and that areas that are difficult to access can be cleaned safely and efficiently. The Nippon Foundation will use the expertise gained through this project to create models for efficient cleanup activities on remote islands and other areas that are difficult to access.
This cleanup was part of the Setouchi Oceans X project, being jointly carried out by Hiroshima Prefecture and the three other prefectures bordering the Seto Inland Sea, and The Nippon Foundation, with the aim of reducing the amount of debris flowing into the area by at least 70% and increasing the amount collected by at least 10%, to make the Seto Inland Sea free of ocean debris.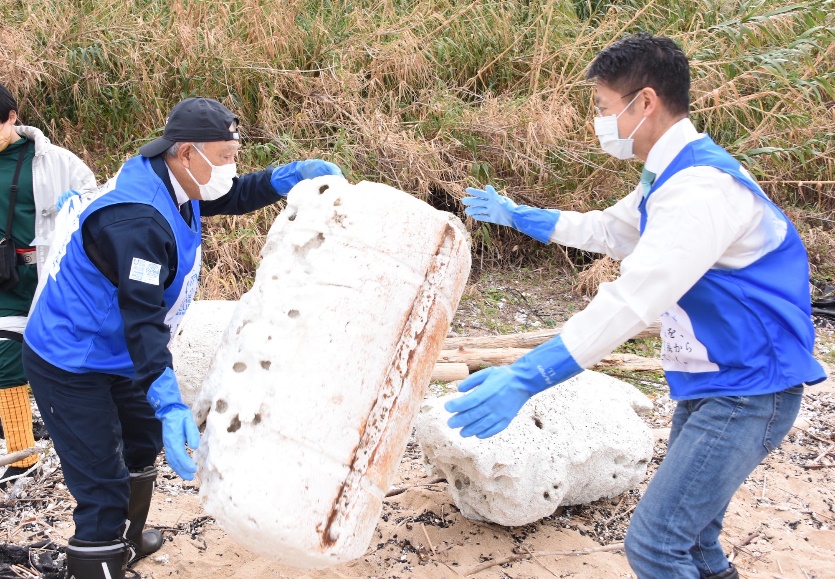 Participants' comments
Yohei Sasakawa, Chairman, The Nippon Foundation
We hope to create a model for not discarding debris, so it doesn't flow into the ocean. Let's work together for a beautiful Seto Inland Sea.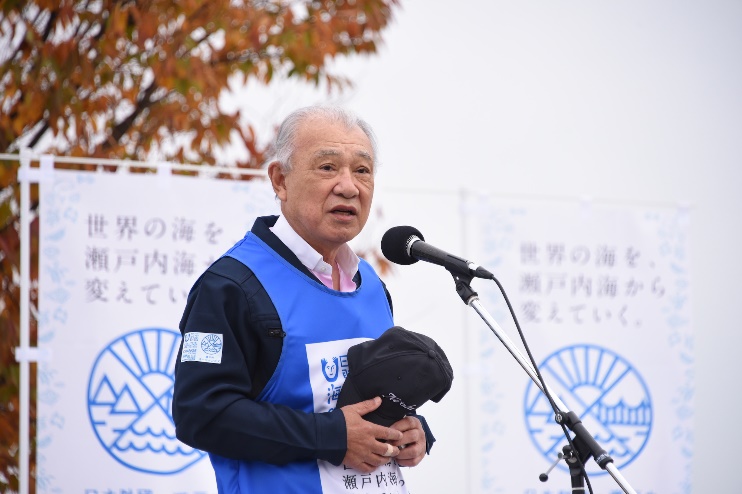 Hidehiko Yuzaki, Governor, Hiroshima Prefecture
I have high hopes for this demonstration of efficient debris removal in cleanup operations. Let's work together with local residents to achieve zero new plastic debris inflow by 2050.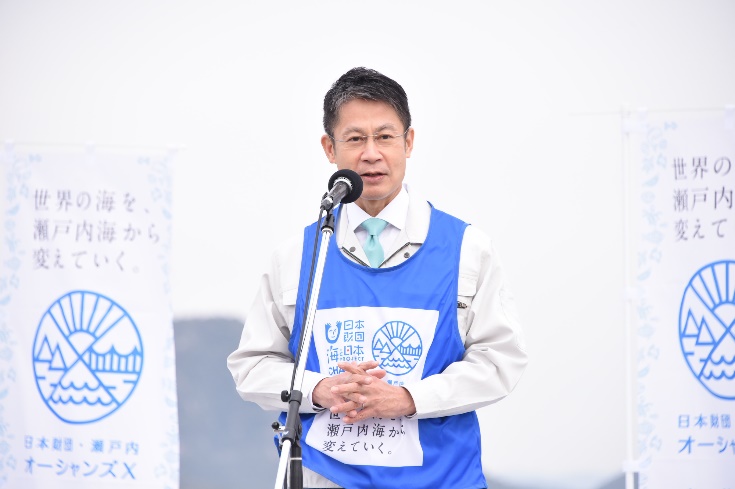 Reference: List of vehicles and equipment used
Name
Features
Number
used
Landing craft

Able to land on beaches with no pier

1
All-terrain vehicle

Able to maneuver swiftly on unpaved surfaces like sandy beaches

2
Crawler dump truck

Able to transport cargo smoothly on unpaved surfaces like sandy beaches

2
Beach cleaner

Able to collect debris buried in sand

1
Truck-mounted crane

Used to install and operate volume reduction equipment and to load collected materials

2
Air classifier

Able to use jets of air to separate sand from debris

1
Plastic foam (float) compactor

A screw press creates pressure and the frictional heat generated releases gasses and reduces volume
Able to reduce volume to roughly 1/10th original size

2
Setouchi Oceans X project
The project was launched in December 2020 by the four prefectures bordering the Seto Inland Sea (Okayama, Hiroshima, Kagawa, and Ehime) and The Nippon Foundation as a comprehensive project to address ocean debris. Using the Seto Inland Sea, which is semi-enclosed and therefore receives relatively little inflow of outside ocean debris, as its field of operations, the project has four main components: (1) Surveys and research; (2) Coordination between companies and local communities; (3) Raising awareness, education, and activities; and (4) Policymaking.
Contact
Public Relations Team
The Nippon Foundation
Email: cc@ps.nippon-foundation.or.jp