Individual Audience with Pope FrancisDeep understanding of leprosy, tragedy of war
Yohei Sasakawa, The Nippon Foundation Chairman and World Health Organization Goodwill Ambassador for Leprosy Elimination, was received by Pope Francis at the Vatican on the morning of January 26 (local time). Mr. Sasakawa asked for the pope's cooperation in eliminating both the disease of leprosy and the prejudice and discrimination that accompany it. In response, the pope thanked Mr. Sasakawa for his work as WHO goodwill ambassador and displayed a deep understanding of the situation, noting the need to continue to work to make people understand that leprosy is a curable disease.
Having visited Japan in 1981 and 2019, the pope had brought with him the well-known photograph The Boy Standing by the Crematory, taken in Nagasaki soon after the atomic bombing, which he showed to Mr. Sasakawa stating, "War is a tragedy. War must never happen again."
The audience followed an international symposium on leprosy, "Leave No One Behind," held at the Vatican on January 23-24 and jointly organized by the Raoul Follereau Fondation, Italian Association Amici di Raoul Follereau, and the Sasakawa Leprosy (Hansen's Disease) Initiative. The pope also delivered a video message to the symposium, in which he said that the discrimination associated with leprosy must be denounced and rectified. The symposium was the second held at the Vatican on the theme of leprosy, the first having been held in June 2016. With approximately 1.3 billion Catholic Church members around the world, the cooperation of the Vatican is a major contribution to the effort to eliminate leprosy and leprosy-related discrimination and prejudice.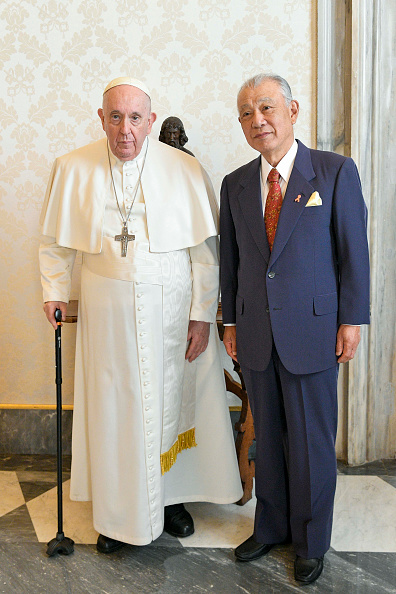 Comment from Yohei Sasakawa
I brought with me a poster that says, "Don't Forget Leprosy / Hansen's Disease," and His Holiness agreed to have his photograph taken with it. It is clear how much warmth and love Pope Francis has for the oppressed. He has given me great strength and filled me with courage in my work against leprosy and the stigma and discrimination it causes."
Leprosy in the world today
With the discovery of an effective multidrug treatment (MDT) in the 1980's, every country with the exception of Brazil has achieved the World Health Organization's definition for the elimination of leprosy as a public health problem (a prevalence of less than 1 per 10,000 population). Currently, roughly 200,000 cases emerge around the world each year. With the outbreak of the coronavirus pandemic in 2020, efforts to address leprosy in various countries have been discontinued or postponed, leading to an increase in the number of people who are unable to receive treatment.
Contact
Public Relations Team
The Nippon Foundation
Email: cc@ps.nippon-foundation.or.jp