Centenary Celebration of the Founding of Culion Leprosy Colony
Culion Is, Philippines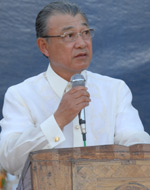 I am delighted to join you at this historic time, as we mark the centennial of the Culion leprosy colony.
The story of humankind records many great accomplishments. But it also notes many mistakes and injustices.
We aspire for peace, but engage in war and disputes. We cherish human dignity, yet stigma and discrimination exist all over the world.
One of the worst examples of social injustice has been perpetrated on people affected by leprosy. They were forcibly excluded and isolated from society. They were deprived of their fundamental human rights and had their dignity stolen.
They were banished to islands such as Culion.
Leprosy is just one of countless diseases in the world. Yet because of the stigma attached to it, millions of people were forced to lead lives of incalculable sadness and suffering.
As WHO Goodwill Ambassador for Leprosy Elimination, I visit countries where leprosy is still a public health problem. I fight to eliminate the disease. I see the progress being made.
Last December, India eliminated leprosy as a public health problem. Since India is the country with the biggest leprosy burden, this is an outstanding achievement.
The Philippines achieved elimination in 1998. It was one of the first countries to introduce MDT, which made this success possible. We can see the results here on Culion, thanks to the fine work of Dr. Cunanan.
Now only six countries, including Brazil, have still to pass the milestone of elimination. From a medical standpoint, eliminating leprosy is just a matter of time.
But the fight against leprosy isn't just a medical fight.
Even when cured of the disease, a person may still struggle against stigma and discrimination. The history of Culion is the history of this struggle for dignity
Until stigma and discrimination are gone, the fight against leprosy will not be over.