International Gandhi Award 2007
Wardha, India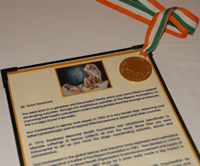 I am extremely honored to receive the International Gandhi Award.
For more than 30 years, I have worked to eliminate leprosy from the world. My father, Ryoichi Sasakawa, was the main reason I became involved in this mission.
He died in 1995 at the age of 96. As a young man, he had seen the misery and anguish that leprosy caused individuals and families, and his life's ambition was to alleviate their suffering. But more than just offering comfort and encouragement, he wanted to ensure that every single person who required treatment had access to it.
As his son, I am carrying on his work, and doing my utmost to finish what he began. The year my father died, The Nippon Foundation pledged through the World Health Organization to supply multidrug therapy free of charge around the world for five years. By this initiative, the number of leprosy patients were reduced drastically. The free supply of MDT is being continued by the Novartis Foundation for Sustainable Development. In 1985, leprosy was endemic in 122 countries; now it is endemic in only five.
From eliminating leprosy as a public health problem, we are moving toward eradicating the disease altogether. But leprosy has another aspect; a social aspect. We still have a long way to go before the stigma and discrimination associated with the disease have been banished. Until then, people affected by leprosy won't truly be free of it.
I think we are all familiar with Gandhi's words, "Disease of the mind is far more dangerous than physical disease. If there is purity of mind, bodily diseases will disappear of their own accord.*" We must do everything possible to get rid of the "disease of the mind" that afflicts people affected by leprosy. To do this, we have to change society, where a discriminatory attitude pervades and there is the mistaken belief that people with leprosy cannot help having a "disease of the mind."
I regard the medical and social aspects of leprosy as two wheels of the same motorcycle. Unless we are curing people of disease and freeing them from stigma and discrimination at the same time, then the motorcycle won't move forward.
But freeing people from stigma and discrimination is not easy. It requires sensitizing the general public and changing how they perceive leprosy. This is not something I can do alone, so last year I launched the first in what will be a series of global appeals to end stigma and discrimination. I was joined by world leaders such as Jimmy Carter, the Dalai Lama and Desmond Tutu. This year, I issued a second appeal with people affected by leprosy. Such efforts will be a key factor in changing society.
Before today, the recipients of the International Gandhi Award have for the most part been medical experts who have made a substantial contribution to the elimination of leprosy. The fact that I have been selected means that the task of tackling leprosy's social aspect has been spotlighted. For this, I offer my profound thanks to the selection committee.
I regard this award as recognition of the work that I and my father before me have done; but furthermore, I see it as a source of inspiration to carry on down the long road of battling social stigma as best I can. It will also serve as a powerful encouragement to people affected by leprosy.
I pledge to live up to your expectations, and I seek your understanding and support as I keep at this task.
This was Gandhiji's thought-provoking message to the first All-India Leprosy Workers' Conference held in Wardha, Maharashtra, from October 30 to November 1, 1947. The message wasn't just an inspirational statement. Gandhiji genuinely believed that mental purity and strength could overcome any force or problem, however formidable – whether it was the British Empire or leprosy. Leprosy had for him an intensely spiritual appeal. He saw service to leprosy as a lever of civilization, one that could lift the quality of human life. (From Glimpses from the Past edited by Dr. S.K. Noordeen)