Bmaps Barrier-Free Map Application
Application previewed, together with para sports demonstration
In advance of the Tokyo 2020 Paralympic Games, The Nippon Foundation held a press conference at its headquarters in Tokyo on April 8 to announce the launch of the Bmaps barrier-free map application and a new para sports project, the Challenge for Tomorrow Para Sports School project. Joining the press conference were Toshiaki Endo, Minister in charge of the Tokyo Olympic and Paralympic Games, Daichi Suzuki, Commisioner of the Japan Sports Agency, television personality Matsuko Deluxe, and several Paralympians.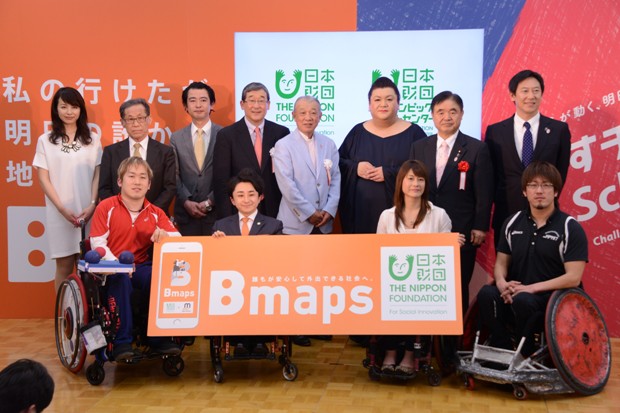 The press conference, attended by roughly 80 members of the media, began with opening remarks from Yohei Sasakawa, Chairman of The Nippon Foundation, who gave an overview of the Foundation's activities around the world to promote social participation by persons with disabilities. Mr. Sasakawa expressed his hope that in 20 years society would have no barriers, and that people with disabilities and people without disabilities could participate equally.
Next, Yasushi Yamawaki, Chairman of The Nippon Foundation Paralympic Support Center (the "Support Center"), announced the Support Center's new project for elementary and junior high school students, the Challenge for Tomorrow Para Sports School project. This project enables children to understand para sports by experiencing them firsthand. The project's goal is to hold 100 schools in its first year, and to hold 1,000 schools, for 500,000 students, by 2020.

This was followed by remarks from Mr. Endo, who said that the most important thing to think about is what kind of legacy the Tokyo 2020 Olympics and Paralympics will leave, and that he hoped interest in the Olympics and Paralympics among children and students will continue to grow. Mr. Suzuki went on to note that during the six months since the Sports Agency was created, he feels that sports have diversified and become broader in scope. The government is currently formulating a basic plan for sports, and he expressed his hope that these types of activities would be incorporated in the plan.

Taking the stage next were Shinji Negi, former captain of the men's wheelchair basketball team and project director of the Challenge for Tomorrow Para Sports School project, Daisuke Ikezaki, a member of the Japanese wheelchair rugby team, boccia Paralympian Takayuki Hirose, and Matsuko Deluxe, who is also a Support Center advisor. Mr. Negi said that he has been visiting schools for more than 20 years in an effort to promote para sports, noting, "By experiencing para sports, a person can enjoy a sport and also better understand persons with disabilities. I hope that the phrase 'Challenge for Tomorrow' will become well known by 2020." Messrs. Ikezaki and Hirose also gave explanations and demonstrations of wheelchair rugby and boccia to convey the appeal of their sports.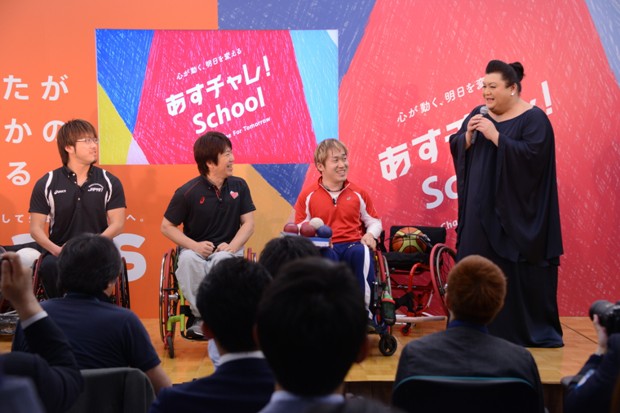 The second half of the press conference covered the upcoming release of the Bmaps barrier-free map application. Shuichi Ohno, Executive Director of The Nippon Foundation, explained that the software, which allows anyone to contribute and view barrier-free information using a smartphone, was jointly developed with Mirairo Inc., and announced that the application is now ready to use.
Mr. Ohno noted, "We hope that as many people as possible, including people without disabilities, will use this application. The current prototype has 16,000 data entries, and our aim is to have one million entries by 2020." The current version will be available in Japanese and English, and the development of a Spanish-language version is planned as well.
Toshiya Kakiuchi, president of Mirairo Inc., asked for users' cooperation, explaining, "People with disabilities need to know more than whether a facility has stairs. They also need to know things like whether electrical outlets are available, and whether they can pay by credit card. I hope the application can provide this information in an easy-to-understand way, so that people do not need to ask by telephone. Next, I want to collect barrier-free information from around the world."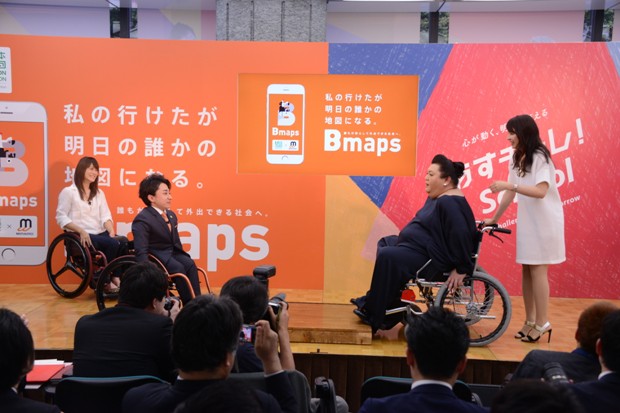 Last on the agenda, Matsuko Deluxe attempted to use a wheelchair to navigate a 10-centimeter step, saying, "As soon as I got into the wheelchair the step seemed like a mountain. Everyone should have this experience."
Related Links
Contact
Communications Department
The Nippon Foundation