'OriHime' Robot Connecting Classrooms as an Extension of Children
Classroom use at Yonago City Shusho Elementary School as part of The Nippon Foundation's Joint Project with Tottori Prefecture
OriHime is a humanoid robot that is proving popular at Shusho Elementary School in Yonago City, Tottori Prefecture. The robot can transmit what is going on in a classroom in the school to children in a classroom in a hospital, enabling the children in the hospital to see what is happening and interact with the students at school in real time using a tablet computer. This is part of a program launched in April 2017 to support seriously ill children in Tottori and their families, which is part of a larger joint project being carried out by The Nippon Foundation and Tottori Prefecture to make Tottori "Japan's Most Livable Prefecture." Shusho Elementary School is the third school at which The Nippon Foundation has lent an OriHime robot, and the Foundation plans to increase this number to six from April.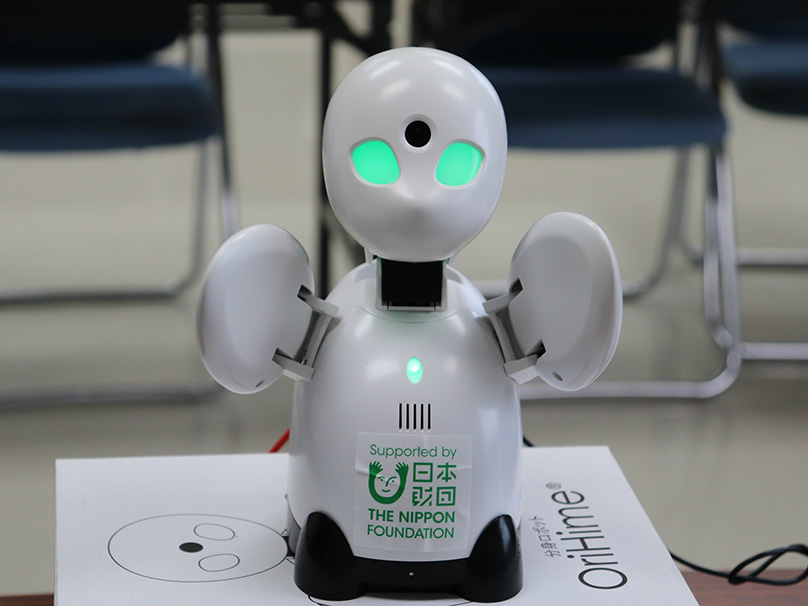 OriHime is a small humanoid robot approximately 20 centimeters tall, with a torso, head, and arms. It is equipped with a microphone, speaker, and camera, and can be operated using a terminal from a remote location. The arms and neck move with the touch of a button, making it possible to convey its intentions. This makes OriHime a robot that can act on behalf of a person, as their double. When we visited Shusho Elementary School in mid-March at lunchtime, a group of third-graders were playing the card game Uno. One of the children held a hand of cards in front of OriHime and asked it which card to discard. A child in the hospital classroom looked at the hand on a tablet computer and replied into the tablet's microphone. In this way, even though the child was in a hospital classroom, he could play with his classmates at the school.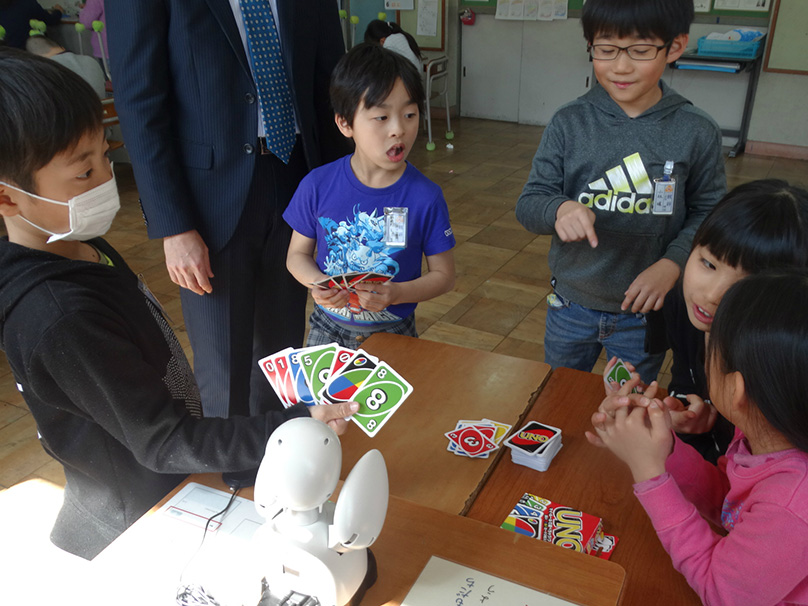 Kazuya Uemura, principal of Shusho Elementary School, says that the children enjoy using OriHime, and that he was surprised by its adaptability and the extent to which the children have embraced it. When Mr. Uemura took the job of principal two years ago, one of the students was unable to attend classes because they were hospitalized at the nearby Tottori University Hospital and attending classes there. Mr. Uemura was concerned that the child would become isolated in that closed space, and tried to think of a way to get the child to look outside beyond the hospital. The school received the OriHime last year, and has been using it since September.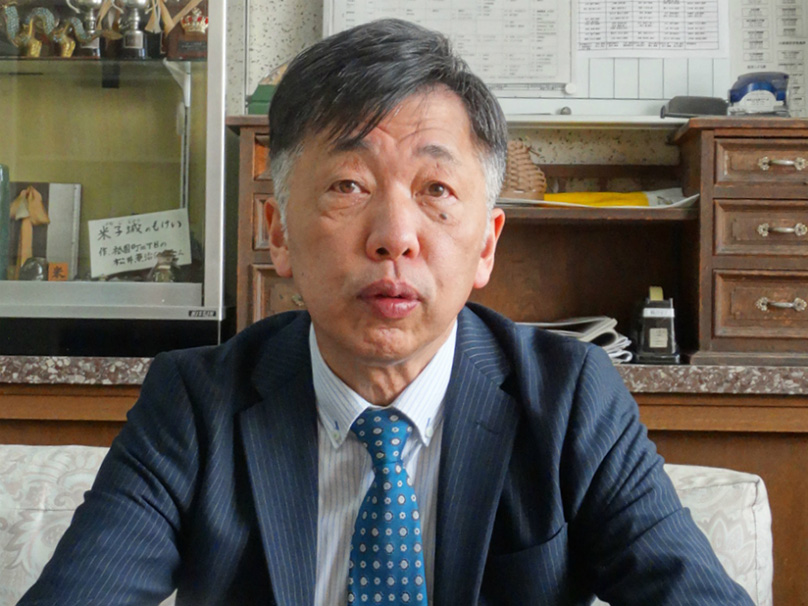 Mr. Uemura also noted that children undergoing medical treatment in the hospital can be self-conscious about their appearance, but with OriHime, the child in the hospital can see the children at school but the schoolchildren cannot see the child, making it easier for the sick child to interact with the schoolchildren. He also suggested other possible ways to utilize the robot, including as an intermediate step to encourage children who are extremely shy or otherwise do not want to attend school to return to school, or to enable children who have transferred to the school from other prefectures maintain ties with their former classmates to ease their transition.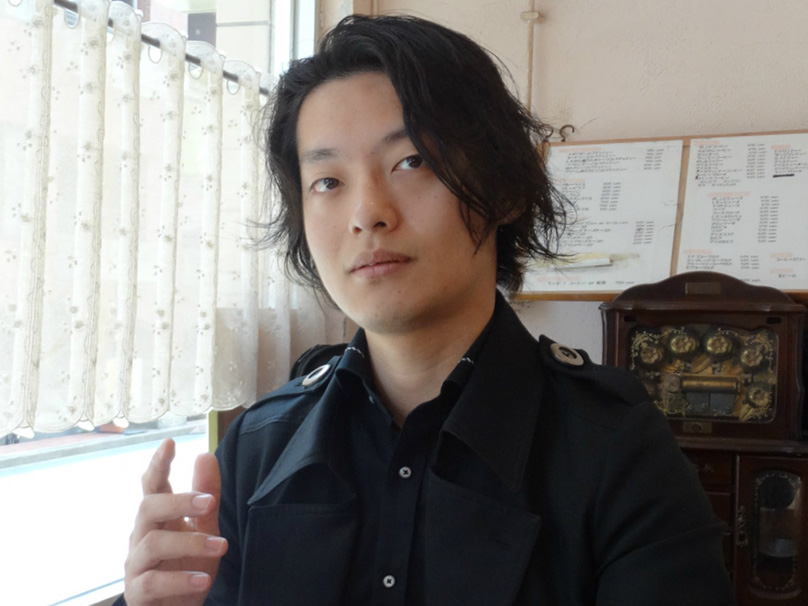 OriHime was developed by Kentaro Yoshifuji, co-founder and CEO of Ory Laboratory, as an "alternative self" robot. The impetus for developing the robot was when he did not attend school for roughly two years from the fifth grade. Having not enjoyed school and not getting along with his classmates to begin with, a one-week absence due to illness made him resistant to returning and this feeling grew stronger the longer he was absent. After some time at home, however, he became bored with reading manga (Japanese comics) and playing video games, and that is when he began having vague thoughts that if he had two bodies, one could go to school and the other could be where he wanted to be. He finally returned to school, and went on to enter an industrial high school in his native Nara Prefecture, where at the age of 17 he decided to pursue the field of artificial intelligence (AI) and dedicate his life to eliminating loneliness.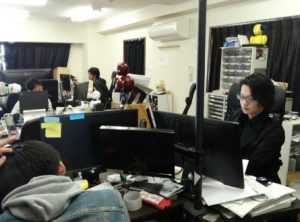 Mr. Yoshifuji first made a robot with two legs that was roughly 40 centimeters tall, and could walk, and then started making various improvements. During that process he decided that a height of about 20 centimeters would have a certain presence without being in the way. The most difficult part was the robot's face. Trying to make a face that would not make anyone feel uncomfortable while balancing the robot's design and function, the face came to resemble a mask worn by actors in the Japanese performing art Noh. He named the robot OriHime, from the Tale of the Cowherd and the Weaver Girl that is celebrated in the Tanabata festival in Japan. "Ori" was also Mr. Yoshifuji's nickname because he was skilled at origami, the Japanese art of paper folding.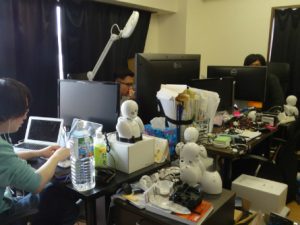 OriHime was completed in the summer of 2015. Given his experience of not attending school, Mr. Yoshifuji thought of using it in schools, and began making sales calls at schools in hospitals and special needs schools. The initial reaction was not favorable, because they said it needed a display to be used in the classroom. However, after he explained the importance of children not only taking classes together, but also talking with friends and playing together, schools gradually began to show interest.
OriHime robots are being leased for 30,000 yen per unit per month. Currently roughly 260 units are in use, and recently mothers with young children and nursing care providers have surpassed schools as users. They are also used in a wide variety of other situations, including wedding ceremonies and sporting events. Ory Laboratory currently has a staff of 10, but with the workload increasing the company is considering hiring additional staff and moving to a larger office.
When asked about his robot development going forward, Mr. Yoshifuji is very enthusiastic. "I want to develop robots that can be used to help persons with disabilities work, and for nursing care for elderly persons. They would be bigger units than OriHime, but the basic goal of eliminating loneliness will not change."
Contact
Communications Department
The Nippon Foundation
E-mail:cc@ps.nippon-foundation.or.jp