Survey of Effect on Gaps in Children's Education and Non-Cognitive Skills from Coronavirus Pandemic
Gaps in education affected by household income, concerns regarding effect on elementary school students' non-cognitive skills
The Nippon Foundation and Mitsubishi UFJ Research and Consulting Co., Ltd. have conducted a joint survey on gaps in education and the effect on children's non-cognitive skills from school closings and restrictions on educational activities during the coronavirus pandemic.
The survey covered 4,000 parents of elementary school through high school students and asked about differences in their children's learning environment before and after the declaration of the first state of emergency in April 2020, and compared the effects by household income.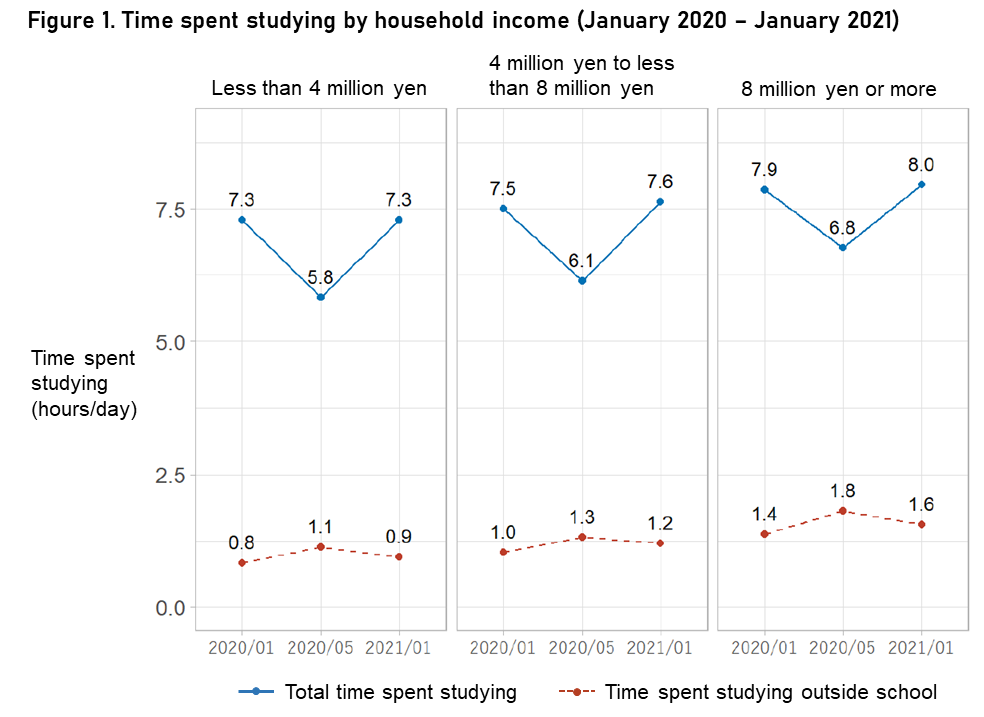 Figure 1 shows that time spent studying outside school increased while schools were temporarily closed, and that the amount of time spent studying outside school after schools reopened remained highest among high-income (annual income of 8 million yen or more) households. In addition, time spent on activities other than studying during the school closings showed an increase in screen time (watching television, playing video games, using the internet, etc.), but that trend was clearly stronger among lower-achieving children and children in single-parent households. This suggests that educational gaps that previously existed (differences in time spent studying and in time spent on other activities by household income) widened during the pandemic.
In addition, children's non-cognitive skills (self-esteem, motivation to learn, etc.) and daily habits deteriorated as school closings progressed, and the results raised particular concern regarding the effect of cancellations and the curtailment of school events on elementary school children.
Survey overview
| | |
| --- | --- |
| Coverage | 4,000 parents of households with elementary school through high school students |
| Method | Internet survey monitored by an internet survey research company |
| Period | March 8 – 18, 2021 |
Survey Report
The full report (in Japanese) can be viewed at:
Going Forward
The Nippon Foundation intends to incorporate the results of the survey in its Children's 3rd Place program to build and support places where children can spend their after-school time with peace of mind and develop personally. Specifically, special opportunities and experiences for learning and daily life support will be created for children who use these facilities who are from single-parent households or households where both parents work full-time, or who face other factors that may affect their development, to bolster our support for children facing hardships as a result of the coronavirus pandemic.
Related News
Contact
Public Relations Team
The Nippon Foundation
Email: cc@ps.nippon-foundation.or.jp