THE TOKYO TOILET Project Adds 3 New Locations
Newest installations designed by Kashiwa Sato, Toyo Ito, and Kazoo Sato
The Nippon Foundation's THE TOKYO TOILET project is building public toilets that can be used by anyone. The project is building new toilets at 17 locations in Shibuya, Tokyo, as a way of moving toward the realization of a society that embraces diversity. The 10th, 11th, and 12th toilets, designed by Kashiwa Sato, Toyo Ito, and Kazoo Sato, have recently opened for use by the general public.
Ebisu Station, West Exit
Concept title: WHITE
Designed by Kashiwa Sato, one of Japan's leading graphic designers and creative directors, this facility is a "pure white toilet." He explained, "Clean. Reassuring. Harmonious. For my installment of THE TOKYO TOILET project, I wanted to create a public toilet that could be used "as a matter of course." The aluminum louvers give an impression of brightness and lightness, as I wanted to create an atmosphere of blending in naturally in a calming, reassuring way within a bustling urban setting. This is a newly built facility, but I also wanted to consider the possibilities for renovations of existing public toilets to enable them to be clean, reassuring, and harmonious. I hope that this public toilet, together with the various other designs being presented through this project, will provide an opportunity for people to think about new possibilities for Tokyo's public spaces." (Opened July 15.)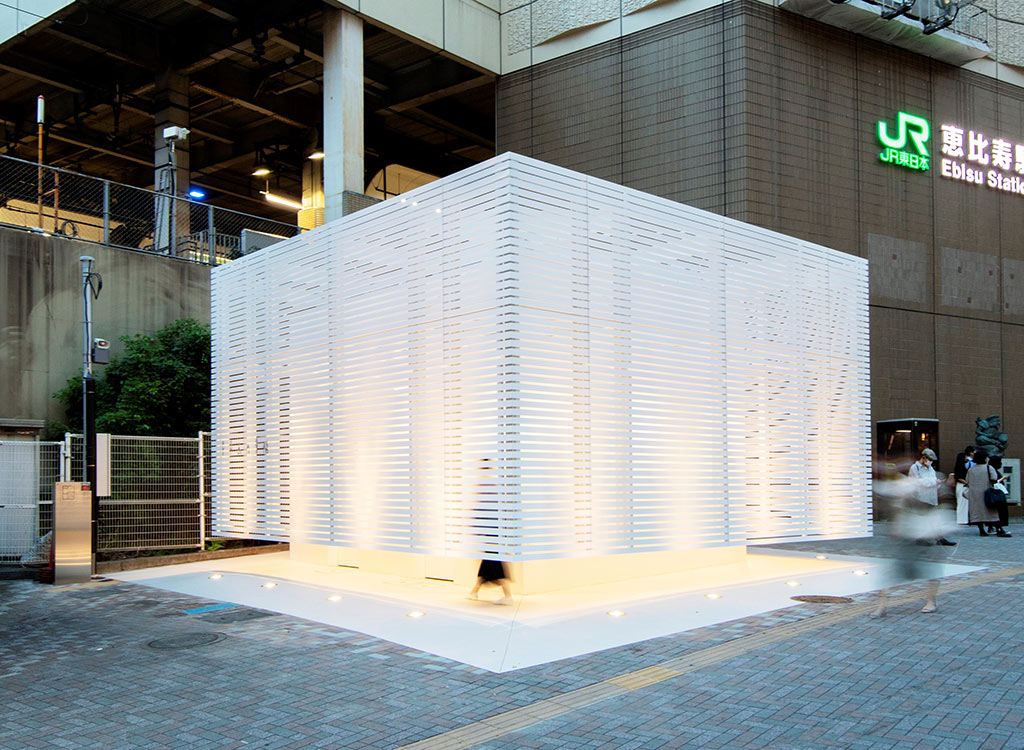 THE TOKYO TOILET pictograms
Mr. Sato also designed the pictogram signs being used for all of THE TOKYO TOILET public toilets. Referencing the Japanese Industrial Standards, he simplified the elements so they would match toilets of any design. In addition to making them easy to see and recognize, he rounded the angles to give the user an impression of softness.
Yoyogi-Hachiman
Concept title: Three Mushrooms
Pritzker Prize-winning architect Toyo Ito designed this public toilet as "three mushrooms" that sprouted in the wooded area around Yoyogi-Hachiman shrine. Even though they are built along Yamate-Dori, a main thoroughfare, they are at the foot of a flight of stairs leading up to the shrine, to create the impression of mushrooms that are in harmony with the forest in the background. Having three individual toilets with space in between makes them easy to navigate, and with the connecting paths open at both ends it is easy to see one's surroundings, helping to prevent crime. There is also ample space within each toilet, with one equipped with traditional accessibility functions for older persons and parents with children, as well as one for women and one for men, making this a public toilet facility that can be used by anyone. (Opened July 16.)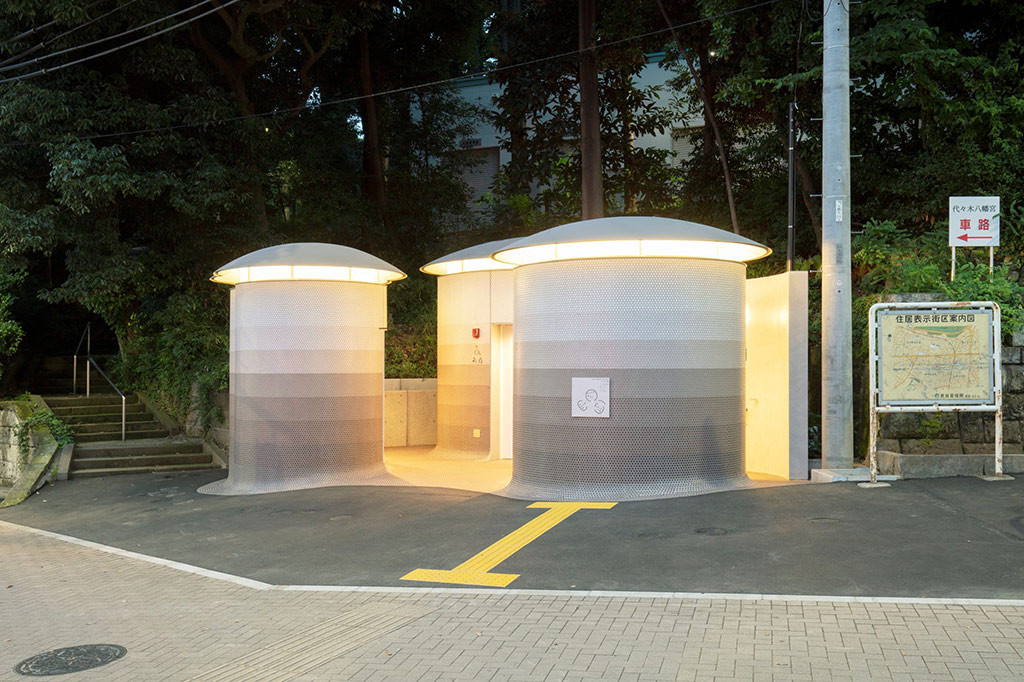 Mr. Ito commented, "I myself have avoided using public toilets as much as I could, even as a man. This time, therefore, I was glad to try a casual design that can be used calmly and with peace of mind. I hope the toilet gives women a sense of security, so they can use it even at night. The design is inconspicuous, so I hope it can be used casually."
Nanago Dori Park
Concept title: Hi TOILET
Creative director Kazoo Sato designed this public toilet based on research from Europe and North America that showed that many people use their foot or elbow as much as possible, or cover their hand with toilet paper, to avoid touching things with their hands when using public toilets. After three years of research and planning on how to incorporate these insights, Mr. Sato and his team came up with a toilet that can be completely operated using voice commands. (The doors can also be opened and closed and toilets used manually as well as by voice command.) This took place well before the coronavirus pandemic, and represents an unprecedented user experience (UX) design. (Opened August 12)
Structural design in cooperation with Kubo Tsushima Architects
Voice commands in cooperation with Birdman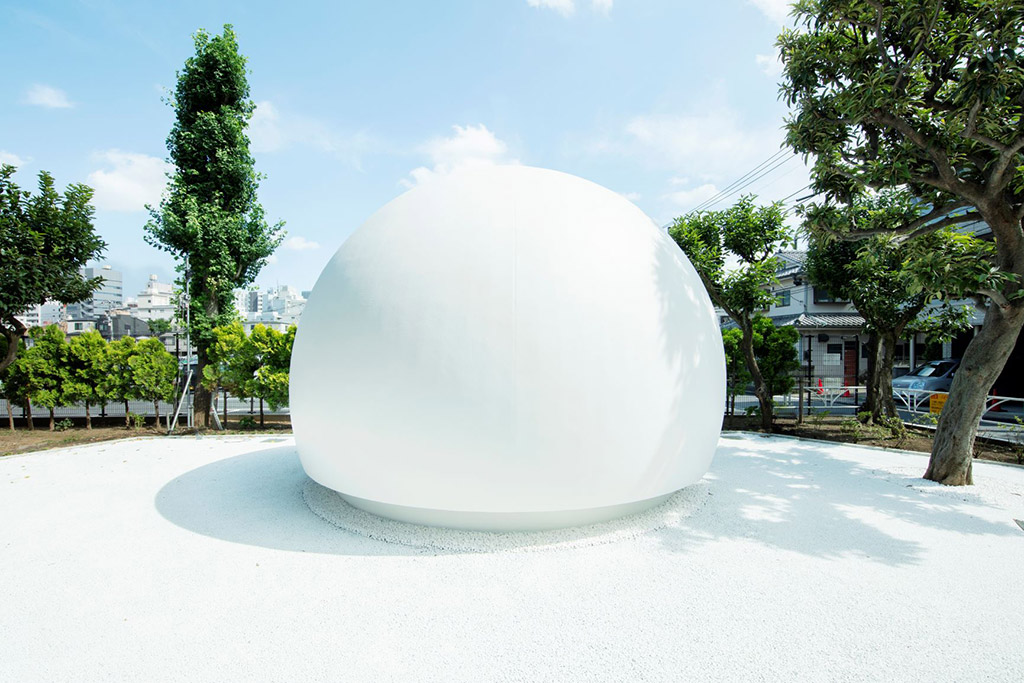 Mr. Sato explained, "This design, with no need to touch anything, creates a new user experience. In addition to being able to use the facilities with voice commands alone, the user can request that music be played to stimulate the bowels. The round design allows for the air to circulate and prevents odors from accumulating. I hope that users will be impressed with how advanced this public toilet is."
THE TOKYO TOILET Project
Japan is known as one of the cleanest countries in the world. Even public toilets have a higher standard of hygiene than in much of the rest of the world. However, the use of public toilets in Japan is limited because of stereotypes that they are dark, dirty, smelly, and scary. To dispel these misconceptions regarding public toilets, The Nippon Foundation has decided to renovate 17 public toilets located in Shibuya, Tokyo, in cooperation with the Shibuya City government. These public toilets are being designed by 16 leading creators, and will use advanced design to make them accessible for everyone regardless of gender, age or disability, to demonstrate the possibilities of an inclusive society. In addition to the construction, we have arranged for ongoing maintenance so that people will feel comfortable using these public toilets and to foster a spirit of hospitality for the next person.
Related News
Contact
Public Relations Team
The Nippon Foundation
Ms. Tominaga
Email: pr@ps.nippon-foundation.or.jp