Results of Latest Survey of Evacuees from Ukraine1 in 4 wish to stay in Japan
The Nippon Foundation has announced the results of a survey of evacuees from Ukraine who are 18 years old and older. Of the 750 respondents, roughly one in four (24.7%) showed a clear desire to settle in Japan, replying that they "Want to stay in Japan for as long as possible." Adding those who replied that they "Want to stay in Japan until the situation in Ukraine stabilizes" brought the percentage of evacuees who wish to become long-term residents of Japan to 65.5%.
With regard to Japanese language ability, 51.7% replied that they are receiving support to learn Japanese, and 35.7% replied that they "Can speak a little Japanese and understand simple Japanese," compared with 19% who gave the same response in the previous survey (announced July 29). The top areas in which respondents indicated support being needed were "Leisure and tourism" (55.9%), "Job placement and training" (39.2%), "Matching of local support groups with people wanting support" (36.7%), and "Making Japanese friends" (36.0%). Commenting on the results, Jumpei Sasakawa, The Nippon Foundation's Executive Director in charge of The Nippon Foundation Office for People Displaced from Ukraine, noted, "The situation for evacuees is changing by the day, and we will conduct regular surveys to determine what support is needed."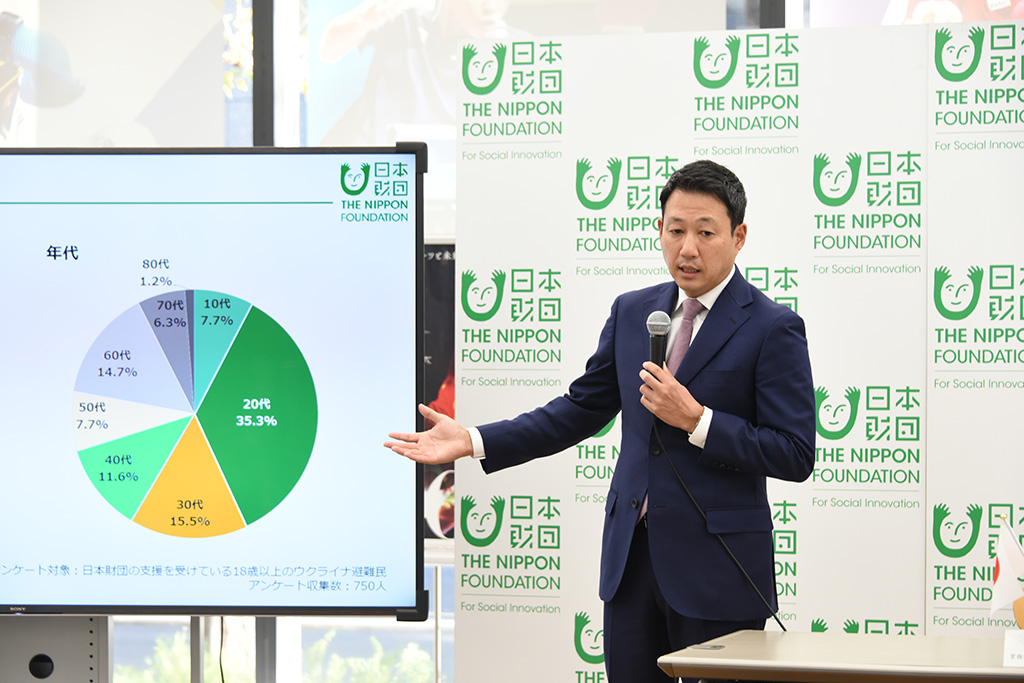 Comment
Yohei Sasakawa, Chairman, The Nippon Foundation
We at The Nippon Foundation have limited resources, and therefore intend to limit our support to 2,000 evacuees from Ukraine. We do not simply provide funds, however, and are interested in many other aspects including their degree of satisfaction with living in Japan and points of dissatisfaction, as well as whether they desire to live in Japan for a long time or permanently. By maintaining regular contact with these evacuees, we will be able to gain valuable experience for dealing with evacuees, refugees, and immigrants from other countries in addition to Ukraine in the future.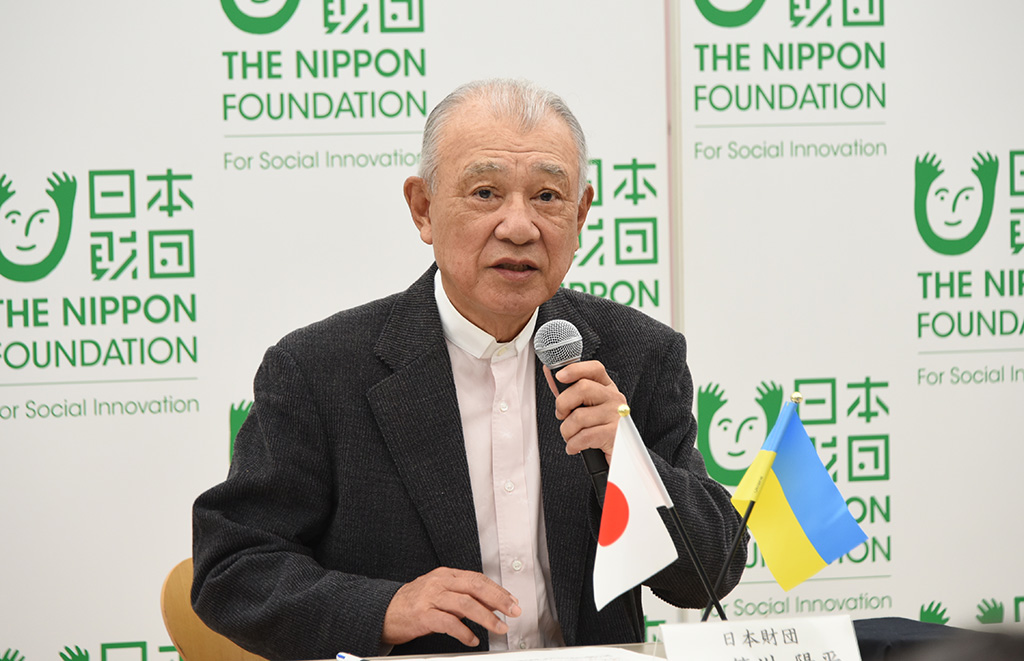 Overview of survey results
Purpose
With 10 months having passed since Russia's invasion, to understand Ukrainian evacuees' desire to reside in Japan, their situation with regard to Japanese language education and employment, their mental health, and areas where support is needed.
Period conducted
November 28 to December 12, 2022
Sample
Persons from Ukraine who have evacuated to Japan and are receiving assistance from The Nippon Foundation

*

Those who had been determined to be eligible for support and were 18 years old or older at the time the survey was initiated (November 28)

Replies received
750 respondents
*

Survey conducted using the Ukrainian evacuee support platform provided gratis by SAP Japan Co., Ltd. and Qualtrics Japan LLC
Survey Excerpts
Desire to reside in Japan (What is you intention or desire to return to Ukraine?)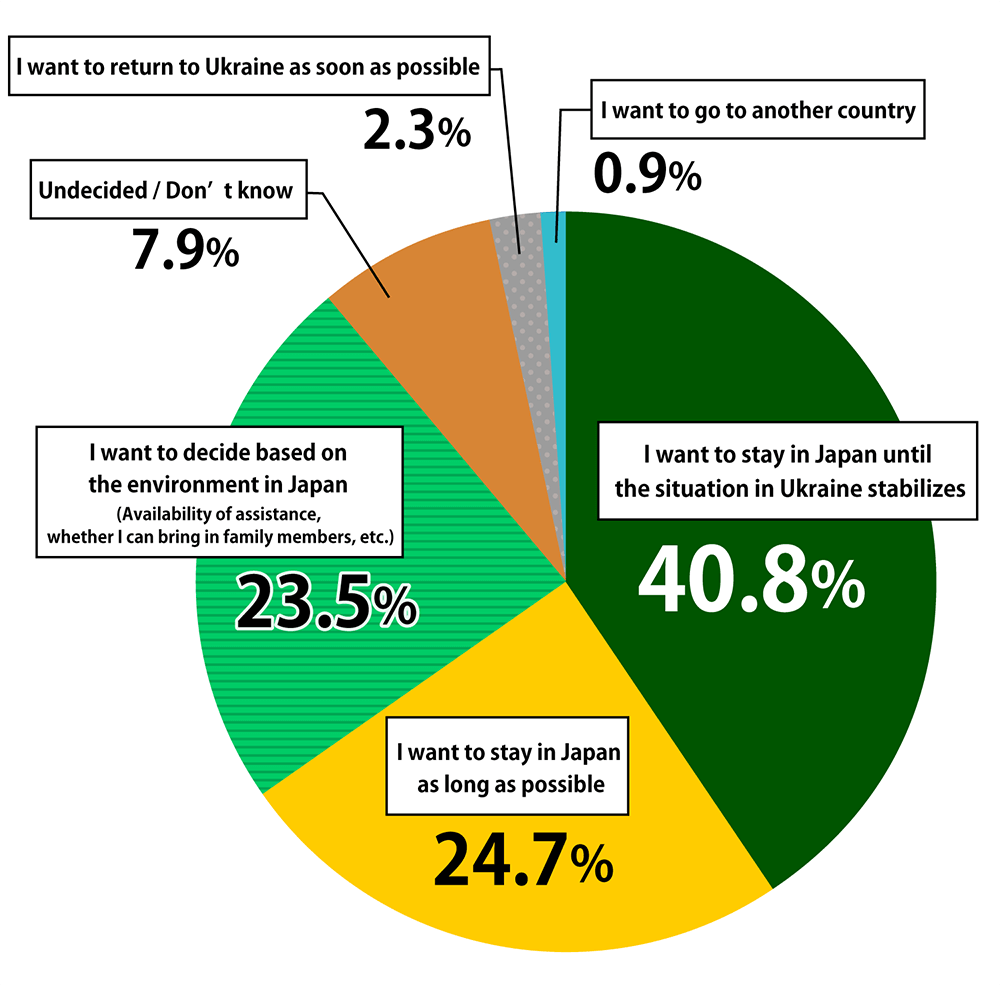 Areas in which support is needed (What support do you require other than monetary assistance and home furnishing assistance?)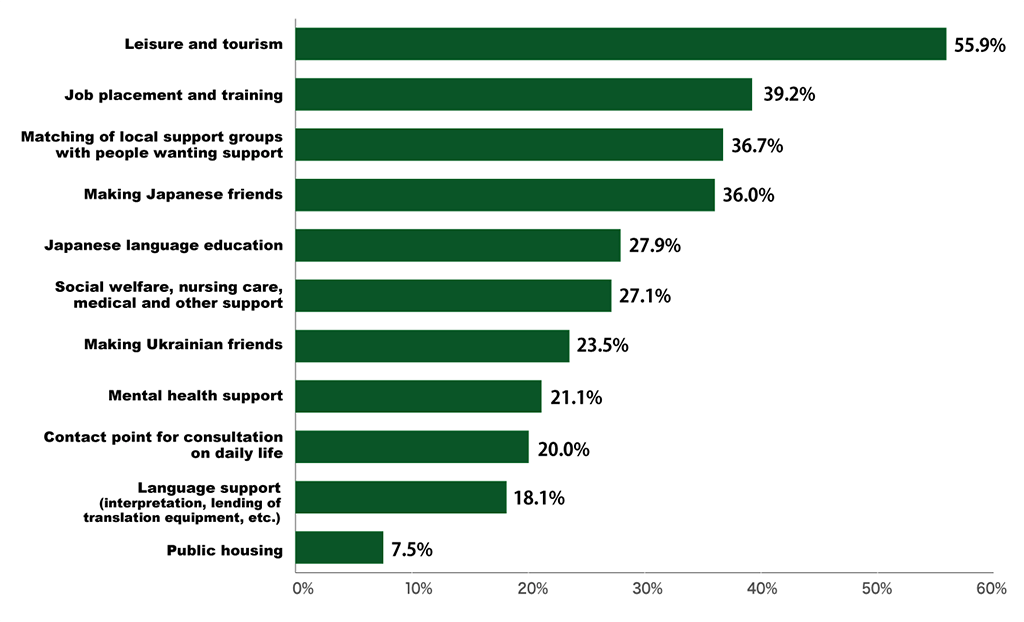 Related Link
Contact
Regarding this release
Public Relations Team
The Nippon Foundation
Email: cc@ps.nippon-foundation.or.jp
Regarding support for people displaced from Ukraine
The Nippon Foundation Office for People Displaced from Ukraine
Email: support_ukraine@ps.nippon-foundation.or.jp