Response to the 2016 Kumamoto Earthquake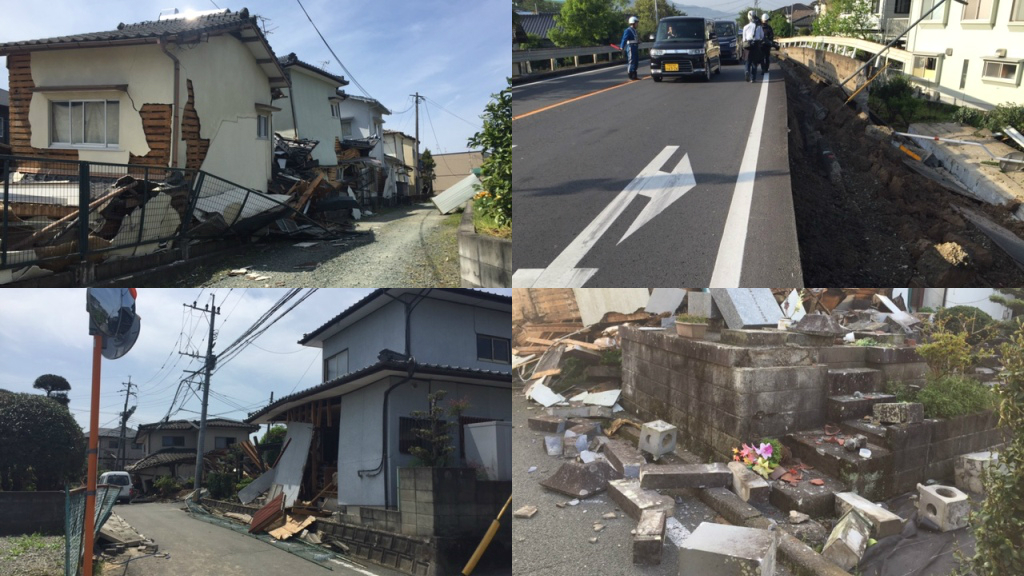 A series of major earthquakes beginning on April 14, 2016, with epicenters in Kumamoto Prefecture, inflicted major damage to a wide area of the island of Kyushu. The Nippon Foundation is actively engaged in supporting the reconstruction of damaged areas.
Emergency response (initially estimated total disbursements of 300 million yen)

A total of 352.2 million yen (as of May 7, 2017) has been used to conduct surveys to ascertain the needs of persons requiring special consideration, including disabled people, elderly persons, and young children, and to provide them with immediate relief and support to enable them to continue to live in evacuation shelters or in their homes. The Foundation is also supporting the Social Welfare Cooperation Council established by the Disaster Response Volunteer Center.

Support for activities by NGOs and volunteer organizations (initially estimated total disbursements of 1 billion yen)

Support of up to 1 million yen each is being provided for recovery and restoration activities being carried out in affected areas by NGOs and volunteer organizations. As of the June 30, 2016, deadline for applications, 1,251 applications had been received, and as of May 7, 2017, a total of 316.6 million yen had been awarded to 347 projects being carried out by 318 organizations.

Payment of consolation and condolence monies to families with homes that were damaged or family members missing or dead (initially estimated total disbursements of 2 billion yen)

Consolation money of 200,000 yen per household is being provided for homes that were damaged or destroyed, based on a certificate issued by the government. As of May 7, 2017, a total of 4,763.6 million yen had been provided to 23,818 households.
Condolence and consolation money is being paid to family members in the amount of 100,000 yen per person listed as missing or dead. As of May 7, 2017, a total of 22.1 million yen had been given to the families of 221 people who lost their lives in the earthquakes.

Establishment of financing structure for rebuilding of homes and businesses (initially estimated total disbursements of 3 billion yen)

Based on agreements concluded with the Kumamoto and Oita prefectural governments and in cooperation with local homebuilding associations, funds have been set up to support the rebuilding of homes and businesses. During fiscal 2016 (April 1, 2016, to March 31, 2017), 170.4 million yen of the fund in Kumamoto was allocated for interest-free financing for the rebuilding of 199 homes and businesses, and in Oita, 42.5 million yen was allocated for interest and guarantee deposit fees for the reconstruction of 66 homes and businesses.

Support for repairs to Kumamoto Castle (initially estimated total disbursements of 3 billion yen)

As a means of supporting the hopes and aspirations of people in the affected area, The Nippon Foundation is providing three billion yen to assist with repairs to Kumamoto Castle, a Kumamoto Prefecture landmark and one of Japan's three most famous castles.

Establishment of The Nippon Foundation Disaster Response Support Center, Kumamoto Office

An office has been established in Kumamoto City for the unified management of needed support, to ensure that relief and reconstruction activities by NGOs, volunteers, companies, and other private-sector organizations are carried out smoothly in coordination with related government agencies. In addition to receiving applications for consolation and condolence monies, the Center is being used as a meeting place for volunteers and organizations carrying out support activities. An additional support center was later established in neighboring Oita Prefecture, which also suffered significant damage. Approximately 5,000 people used the two facilities (combined basis), which discontinued operations on May 7, 2017.

Projects Using Specified Donations from Companies


Kirin KIZUNA Relief-Support Project – Kumamoto
A comprehensive tri-party agreement was concluded by Kumamoto Prefecture, the Kirin Group, and The Nippon Foundation in December 2016 to support the recovery of food-related industries, community revitalization, and vibrant bodies and minds through activities in affected areas that will form a bridge from reconstruction to the future. These activities will also be coordinated with the recovery plan formulated by the prefectural government, with the local government, a private-sector company, and a public-interest foundation working as one to provide comprehensive, tailored support.
"Mashiki Dream Schools" to Support Junior High School and High School Students
In November 2016, a decision was made to use funds provided by Philip Morris Japan Limited to support Katariba, an NGO that has been assisting children with their studies in the area affected by the March 2011 earthquake and tsunami that struck the Tohoku region of northeastern Japan. Katariba has set up three places in Kumamoto Prefecture – two in junior high schools and one in a temporary housing facility – where children can gather when school is not in session. The junior high schools are considering holding events with the schools' teachers to allow students to experience different occupations, and have set up correspondence with junior high school students in Tohoku, to encourage junior high school students in Mashiki to think about their future and pursue their goals.
Community Support for Recovery
With one year having passed since the earthquakes struck, the daily lives of residents in affected areas are shifting from evacuation shelters to temporary housing facilities. We are providing support during this phase as well, by conducting surveys to identify specific needs, supporting the creation of communities in temporary housing facilities to reinvigorate people's daily lives, and supporting residents' own local planning and community building activities. With financial support from the Johnson & Johnson Contributions Committee, we are supporting local organizations engaged in reconstruction in the two areas of supporting communities in temporary housing facilities and supporting the rebuilding of communities.

Support for Social Welfare Centers in Damaged Areas

A total of 306.6 million yen has been allocated to 15 projects in Kumamoto and Fukuoka prefectures to support the rebuilding or resumption of operations at social welfare facilities that were damaged by the earthquakes and operated by organizations previously supported by The Nippon Foundation.

Events to Support Reconstruction

The Nippon Foundation held a number of events in and around Kumamoto Prefecture for local children during their summer vacation, including an overnight cruise experience, with 1,256 elementary and middle school students participating.

Dispatching of Student Volunteers

The Nippon Foundation Student Volunteer Center (Gakuvo) trains and organizes student volunteers, and has sent a total of 197 student volunteers from Fukuoka, Osaka, and Sendai. The students assisted with a range of activities, including the removal of furniture and belongings and agricultural equipment from damaged homes, gathering up fallen roof tiles, placing sandbags, and conducting surveys of local needs.
Kumamoto Earthquakes Volunteer Fund
The Kumamoto Earthquakes Volunteer Fund was established to accept donations to support on-site volunteer activities, including the distribution of emergency food rations, water and other necessities, support for older or disabled people requiring special assistance, and the removal of debris and rebuilding of homes.
Donations to the Fund are not used by The Nippon Foundation for administrative or other indirect expenses; the entire amount is used to support activities in areas damaged by the earthquakes. The fund is no longer accepting donations, but more than 3,700 donations, totaling more than 290 million yen, had been received as of December 31, 2016.
Contact
Communications Department
The Nippon Foundation
E-mail:cc@ps.nippon-foundation.or.jp