The Nippon Foundation HEROs Ambassadors and Supporters Assist with Reconstruction in Hiroshima Prefecture
17 top athletes gather to offer first-hand support in flooded area
As part of The Nippon Foundation "HEROs Sportsmanship for the future" project, 17 of Japan's top athletes visited the town of Saka in Hiroshima Prefecture on October 18 to offer first-hand support for reconstruction from the damage caused by heavy rains that struck the area in July. The group included HEROs Ambassadors Kosei Inoue (judo; gold medalist at the Sydney 2000 Summer Olympics), Hidetoshi Nakata (soccer; member of the Japan national team for three World Cup tournaments and two Summer Olympics), and Daisuke Uehara (Para ice hockey; member of the Japan national team for three Winter Paralympics), as well as HEROs AWARD 2017 winner Takashi Toritani (baseball; shortstop for Nippon Professional Baseball's Hanshin Tigers) and other top-tier professional athletes.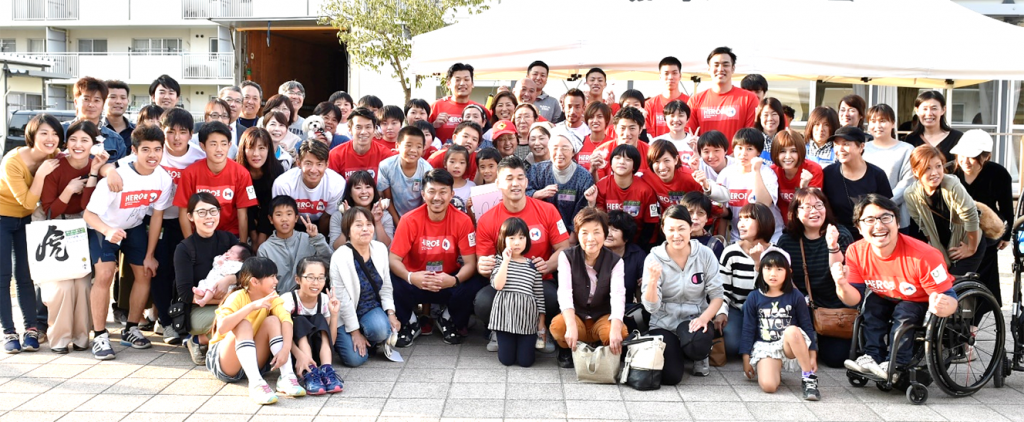 The group first went to Saka's Koyaura district, where they were briefed by local residents and The Nippon Foundation staff on the severe damage the area incurred, which included major landslides, 16 deaths, and 1 person still listed as missing. The group also paused for a moment of silence at a stone marker that has been erected as a memorial of the disaster.
The group then visited Koyaura Elementary School, which experienced flooding beneath the floors. A nearby preschool, however, had significant flood damage and is now temporarily operating from borrowed space in the elementary school. There, the athletes handed out signed balls and other items, and presented a horizontal bar and balance beam to the preschool, which lost all of its sports equipment in the fooding. A sixth-grade student expressed his thanks on behalf of the students, saying, "We are very happy to be able to meet people we can only see on television. We will treasure this experience, and keep moving forward one step at a time."
Next, the athletes moved to Saka Junior High School, where they received an enthusiastic welcome from the students. The purpose of this visit was to encourage students to become actively involved in volunteer activities with older residents of a nearby temporary housing facility. The athletes and students ate lunch together, and then were joined by students from Hiroshima Shoyo High School, located just across the street, to play soccer, baseball and badminton, and practice judo, together in the school yard and gymnasium.
The athletes and students then went to a temporary housing facility in the same neighborhood where roughly 100 families are living. Together with the residents, they made mochi rice cakes and planted flowers. The athletes, students, and residents spent close to two hours together, and this interaction produced many smiles all around.
HEROs Ambassador Nakata closed the day's events with words of encouragement and ongoing support for the region, noting, "All of us have different talents and abilities, but the important thing is that we pull together with people who are facing difficulty. Always value your friends and neighbors."
Ryuji Hasegawa, who manages the HEROs project at The Nippon Foundation, added, "We are working to help the people in areas that were damaged, and especially to encourage active participation in volunteer activities by junior and senior high school students. These areas will continue to need support for some time, so it is important not to forget them. I hope that today's activities will help in this way."
About the HEROs project (launched October 30, 2017)
HEROs is a social innovation project that seeks to use the expertise, experience, and human resource networks developed by The Nippon Foundation through its social contribution activities to harness the power of sports, to give children hopes and dreams for the future and create a better society for the next generation.
Related News
Contact
Communications Department
The Nippon Foundation
E-mail:cc@ps.nippon-foundation.or.jp