Unique Partnership Generates Excitement in Young People's District
Bunraku oneri held on Takeshita-dori ahead of Meiji Shrine performance
A Bunraku oneri was held along Takeshita-dori in Harajuku, Tokyo, on March 8, creating a buzz of excitement throughout the district with this "unique partnership" bringing together the latest young people's culture and the traditional performing art of Bunraku. An oneri is a procession by actors to announce a series of performances, and is usually associated with Kabuki theater. This oneri was held to announce the seventh set of performances of the Nippon Bunraku Project, which began on March 9 on a specially built, portable outdoor stage at the entrance to the grounds of Meiji Shrine near Harajuku Station. Kiritake Kanjuro, one of the participating puppeteers, commented, "The excitement among the young people and tourists from overseas was greater than I expected."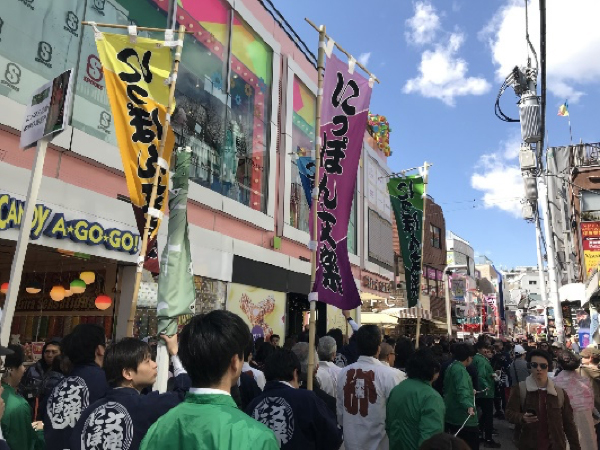 In addition to young Japanese people, Takeshita-dori is popular with tourists from around the world as the heartbeat of Japanese "kawaii" (cute) culture. Roughly 200 shops selling clothing and other items line both sides of the narrow street, which runs for approximately 350 meters from Meiji-dori avenue to Harajuku Station. The oneri started from Meiji-dori at 11:30. The procession was led by three puppets and puppeteers, followed by people carrying banners marked "Nippon Bunraku," the performances' narrator and shamisen players, and members of the local residents' and merchants' associations, and lasted for roughly 45 minutes.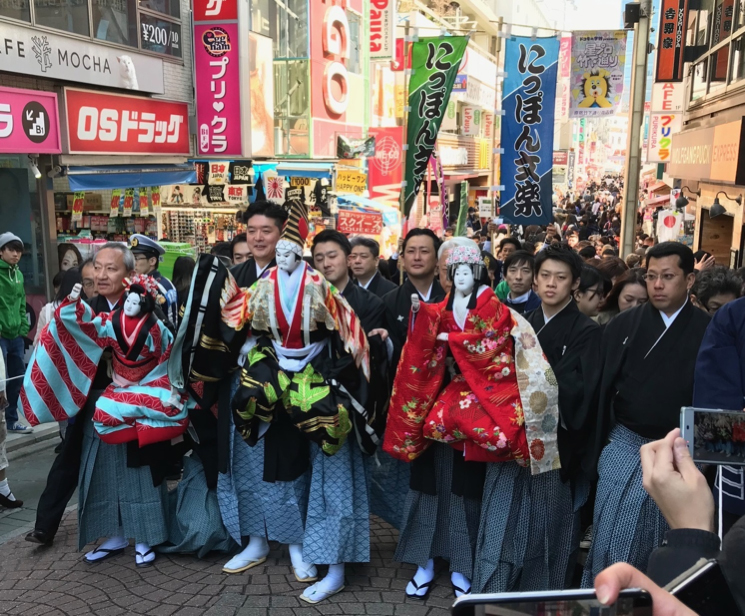 Under a clear sky, the street was already bustling with young Japanese people and overseas tourists before the oneri began, and as the procession worked its way through the crowd everyone seemed to be taking pictures with their smartphones. A young mother explained to her child that this was Bunraku, and tourists responded to the puppets' hand movements by waving back to them.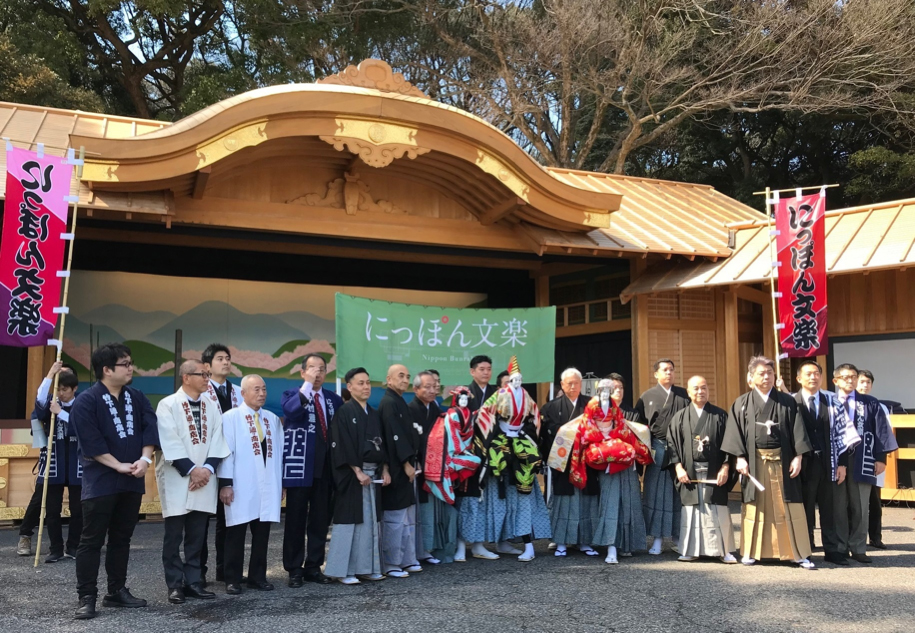 After the oneri Masayuki Nakamura, the project's overall producer, commented, "Thanks to the cooperation of local merchants and residents, the interest in Bunraku from young people and overseas tourists that I felt as we were walking down the street was greater than I expected."
Afterward, photographs were taken by the stage, made of Japanese cypress and set up in front of the Harajuku Station entrance to the Meiji Shrine grounds, and a prayer for a successful run of performances was made at the main shrine inside the grounds. Three performances were held daily over the next four days (Saturday to Tuesday), and tickets for all were sold out in advance.
The performances were held to mark next year's 100th anniversary of the dedication of Meiji Shrine. There were approximately 120 ticketed seats for each performance, and as with previous Nippon Bunraku performances, audience members were encouraged to bring food and drink to enjoy during the performances. The stage was visible from the street, so that visitors to the shrine could also see the performances from a distance free of charge.
Related News
Contact
Communications Department
The Nippon Foundation
E-mail:cc@ps.nippon-foundation.or.jp