Nippon Bunraku – Experience Culture while Eating and Drinking
*This project concluded on March 31, 2023.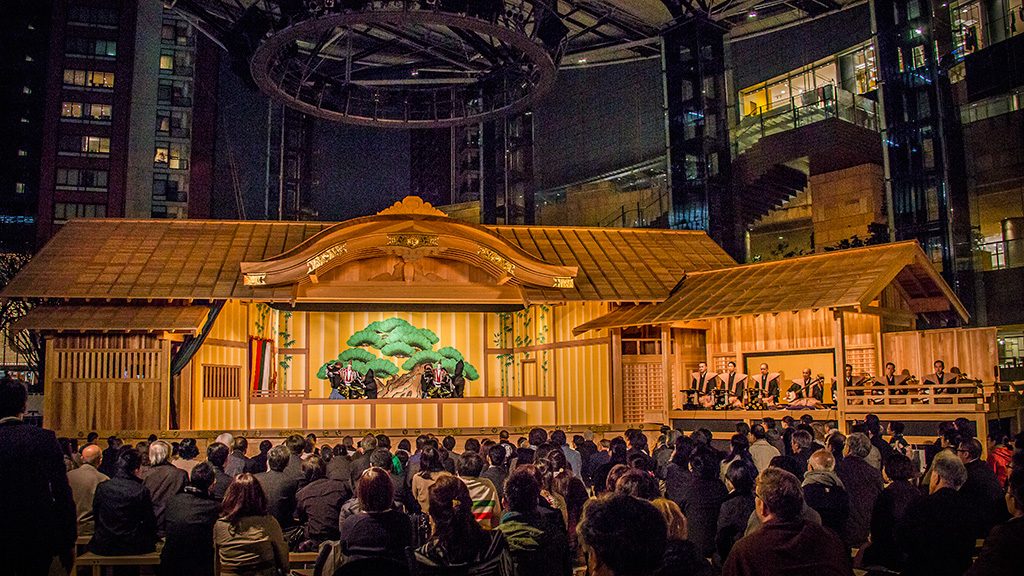 Taking a new look at Japanese culture
The Nippon Bunraku project aims to broaden the appeal of Bunraku puppet theater, a unique, traditional Japanese art, and to remind people of the value of Japanese culture. The project involves the construction of a full-sized Bunraku stage made of Japanese cypress, at a cost of roughly 100 million yen, which will be used to stage performances around Japan until the Olympic and Paralympic Games are held in Tokyo in 2020.
The stage, which can be knocked down and reassembled, is made of Japanese cypress from Yoshino, a region famous for this type of wood, and is approximately 19.7 meters wide and 6.7 meters tall, which is roughly the same as a standard-sized, permanent Bunraku stage. The audience section is surrounded by cotton curtains dyed using traditional techniques, giving audience members the feeling of being in another, artistic world.
The audience is encouraged to eat and drink during the performance, as well as before and during the intermissions. This gives the performances a special Nippon Bunraku atmosphere that is more relaxed than at traditional performances. We hope that people will enjoy these performances, which recreate one of the original forms of Japanese entertainment in an open, relaxed atmosphere.
Performances
| Dates | Venue | Details |
| --- | --- | --- |
| March 19-22, 2015 | Roppongi Hills Arena, Tokyo | Afternoon and evening performances (8 total, 1 canceled because of rain) |
| October 17-20, 2015 | Naniwa-no-Miya Park, Osaka | Afternoon and evening performances (8 total) |
| October 15-18, 2016 | Grounds of Sensoji Temple, Asakusa, Tokyo | Afternoon and evening performances (6 total, 2 canceled because of rain) |
| March 11-14, 2017 | Ise Shrine, Mie Prefecture | Afternoon and evening performances (7 total, 1 canceled because of rain) |
| October 14-17, 2017 | Ueno Park, Tokyo | Afternoon and evening performances (8 total, 5 canceled because of rain) |
| March 17-20, 2018 | Kumamoto Castle, Kumamoto Prefecture | Afternoon and evening performances (5 total, 3 canceled because of rain) |
| March 9-12, 2019 | Meiji Shrine, Tokyo | Afternoon and evening performances (12 total) |
| March 21-24, 2020 | Expo'70 Commemorative Park, Osaka | All performances canceled in response to the spread of the new coronavirus |