Leprosy in Our Time – Medical and Social Challenges
Toward a leprosy-free world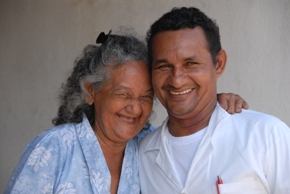 Sustaining political commitment
In 2012, there were 232,857 new cases of leprosy reported, with 95% of these cases found in 16 countries, mostly in Southeast Asia and Africa. In many of these countries, new case detection rates are static or showing signs of increasing, and hyperendemic pockets of the disease exist. Having "eliminated" leprosy, countries have shifted their health priorities elsewhere. Complacency threatens to undo the progress that has been made.
Recognizing the need for renewed political commitment, in July 2013 the WHO and The Nippon Foundation organized an International Leprosy Summit in Thailand. At this summit, 17 countries that annually report more than 1,000 new cases issued the Bangkok Declaration, reaffirming their commitment to achieve a leprosy-free world "at the earliest."
The tasks ahead
In a world with fewer cases of leprosy, it is essential to ensure that expertise in diagnosing, treating and managing the disease and its complications is not lost. In particular, efforts need to focus on endemic pockets, such as urban slums and border areas, where leprosy persists. In this regard, opportunities to form synergistic partnerships with other neglected tropical disease programs should be explored.
A key challenge is to prevent disability, of which leprosy is a major cause. Disability occurs when the disease goes undetected and leads to irreversible nerve damage. An estimated 2-3 million people today are living with disability due to leprosy. The Bangkok Declaration calls for achieving a global target of reducing the occurrence of new cases with Grade II (visible) disability to less than 1 case per million population by 2020. Achieving this target would indicate that the disease is being diagnosed in a timely fashion.
Research priorities
While leprosy can be cured with multidrug therapy, and while early diagnosis and treatment help prevent nerve involvement leading to disability, there remains plenty of scope for further research. Research priorities include: a simple diagnostic tool to identify persons and communities at risk of developing the disease before symptoms appear; an effective treatment for leprosy reaction, one of the causes of disability; and a new drug regimen in anticipation of the emergence of drug-resistant bacteria.
Role of persons affected by leprosy
As part of efforts to sustain the quality of leprosy services and reduce the burden of leprosy in the world, the WHO has recognized the important contribution that persons affected by leprosy can make.* Areas of involvement include helping in the early detection of leprosy in persons around them and identifying those in need of rehabilitation. The guidelines also recognize that by having persons affected by leprosy share their experiences with opinion leaders and the mass media, this will help to lessen the stigma attached to leprosy in society.
* Guidelines for strengthening participation of persons affected by leprosy in leprosy services. (WHO, 2011)